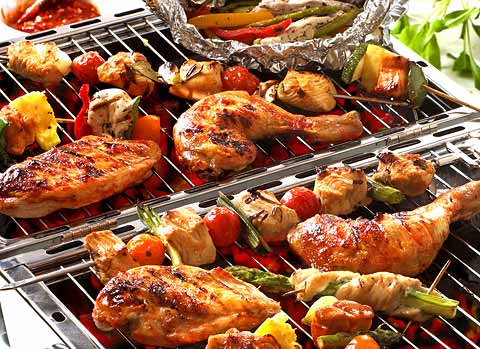 Food Plan Info
Protein: 1
Fat: 1
The first BBQ marinade we are going to share with you this summer is this very tasty Mediterranean marinade for a healthy bbq recipe that will go down a treat at any dinner party you host with friends this summer.
Adding lots of heavy sauces to things to marinade and use on the barbecue doesn't always have to add excess fat and as long as you use your creative juices you can create your very own healthy bbq recipe.
Lemon is a natural digestive aid and can help break down the proteins in meat, poultry, fish and even in beans and eggs. This marinade, is packed with antioxidants which benefit you in so many ways. Antioxidants play a key role in maintaining good health and reducing your risk of heart disease, Parkinson's, Alzheimer's, and cancer. Antioxidants also help slow down the aging process which is definitely a bonus in our eyes. The cumin and cinnamon in this healthy bbq recipe are also well known to help speed up the metabolism.
Combine your meat with some chargrilled peppers or a green salad and enjoy!
Ingredients
– 200g of chicken if using breast meat, double this weight if the chicken is on the bone or
– 120g of pork loin (fat removed)
– 2 Tbsp olive oil
– Juice of 1 lemon
– 3 Tbsp dried rosemary
– 2 Tbsp ground cumin
– 2 Tbsp ground coriander
– 1 Tbsp dried oregano
– 1/2 Tsp sea salt
– 2 Tsp cinnamon
Directions
Combine all the ingredients in a bowl and cover the meat with the marinate. Place in a sealed container over night in the fridge for extra flavour.
It can be used as an immediate marinate if preferred but leave to sit for at least 10-15mins before cooking the meat.