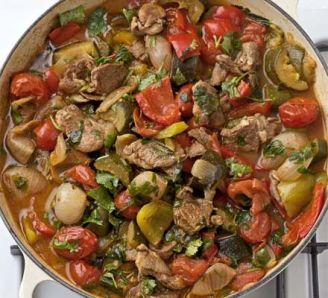 Mediterranean Vegetables and Lamb Recipe
Looking for a healthy recipe to warm you and your family warm up today? Look no further than our Mediterranean Vegetables and Lamb Casserole. It's easy to prepare and tastes delicious. Coming in at only 192 calories per serving this is a great recipe that can fit into your diet plan, is very easy to prepare with a prep time of 15 minutes with a cooking time of another 30 minutes and serves 4 people.
Ingredients:
240g lean lamb fillet with all fat trimmed off, thinly sliced
140g shallots, halved
2 large courgettes, cut into medium chunks
½ tsp ground cumin, paprika and ground coriander
1 red apple, 1 orange and 1 green pepper cut into chunks
1 garlic clove, sliced
150ml vegetable stock
250g cherry tomatoes
Serves 4
Preparation:
Using a large non-stick pan or a few sprays of low cal non-stick oil, cook the lamb and shallots over a high heat for 2-3 minutes.
Add the courgettes and stir-fry for 3-4 minutes, until they begin to soften.
Now add the spices and toss well, followed by the peppers and garlic.
Reduce the heat and continue to cook for a further 4-5 minutes until they begin to soften.
Add the stock and stir.
Finally, add the tomatoes and cover with a lid. Allow to simmer for 15 minutes, stirring occasionally until the vegetable are tender.
Add the coriander before serving.