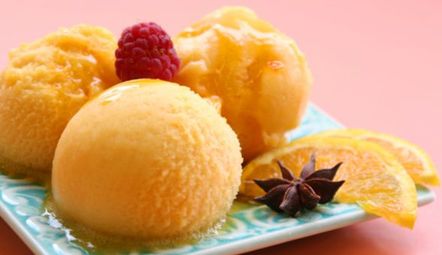 Sorbet is a deliciously light alternative to ice cream and cake! And especially at this time of year you can enjoy a summer sorbet even more. However this 'healthy alternative' to dessert has the impression of being the healthy choice but with all the extra sugar, syrups and chemicals used in the store bought versions it might not be as waist line friendly as you might think.
So we propose you make your own! This summer sorbet recipe does require some time…a little effort…but trust me it's so worth it! The fragrance of the rose water combined with sweetness of the melon makes for a fantastic healthy summer sorbet all your friends and family will love.
Ingredients
800g cantaloupe melon, de-seeded and flesh roughly chopped
2 tbsp sweetener
1 tbsp lemon juice
2 tsp rose water
Directions
Put all the ingredients into a food processor and blend until smooth.
Transfer the mixture to a large freezer proof container, then cover and freeze until crystals form at the edges (about 1 ½ hours).
Beat with a fork to break up the ice crystals, then cover and return to the freezer.
Repeat every 1-2 hours until you have an almost frozen but still grainy mixture, then freeze until firmly set.
Alternatively, pour the mixture into an ice cream machine if you have one, and churn according to the manufacturer's instructions.
Just before serving, remove the sorbet from the freezer, break into large chunks, then whizz ina  food processor for a few  seconds at a time until smooth.
Scoop the sorbet into 4 bowls and serve.
FOR MORE ABOUT HOW MOTIVATION CAN HELP YOU REACH YOUR WEIGHT LOSS GOALS CONTACT YOUR LOCAL CLINIC.