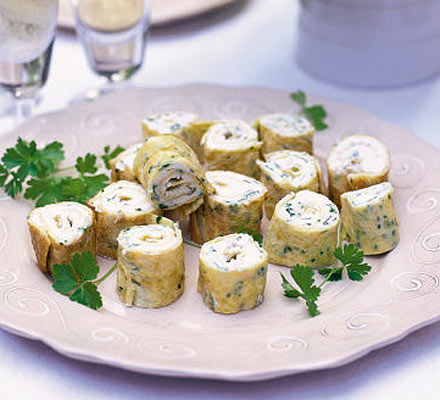 This week we are sharing the super healthy egg recipe Miniature omelettes with ricotta, a great option for summer parties.
Eggs are a great nutrient rich convenience food. They are probably the most versatile protein food available and work perfectly on their own, scrambled, poached or boiled as a quick snack or in omelettes, muffins or pancakes to make a main meal. They are also so cheap and tasty and can be combined with whatever meat or vegetables which are leftover in the fridge.
Ingredients
4-5 eggs
Small handful of parsley, finely chopped, plus extra sprigs to serve
Handful of chives, finely chopped
50g parmesan, freshly grated
Olive oil for frying
Filling
250g ricotta or low fat cottage cheese
Handful of fresh basil, torn
50g parmesan, freshly grated
Directions
Beat the eggs with 2 tbsps of water, then season. Mix in parsley, chives, garlic and parmesan. Heat oil in pan over medium heat
Add a ladleful (about 1/3) of egg mixture and tip mixture so it covers base. Reduce heat and cook omelette until just firm, then flip over and cook the other. Keep warm.
Repeat to make three omelettes, add a little extra oil to pan each time.
Make filling by combining ricotta, basil, parmesan and pepper.
Spread mixture over each omelette, roll up loosely like a cigar and cut into thick slices.
Serve garnished with parsley.