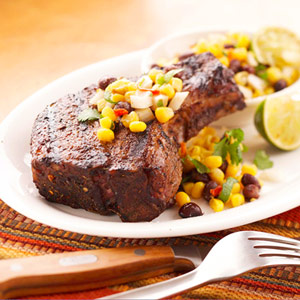 Meal Info
Serves: 4
Time: 20 mins
Food Plan Info
Protein: 3
Free Veg: 1/2
Fruit: 1/4
This healthy, meaty pork recipe uses lean pork steaks and is on the table in less than 20 minutes! Pork chops are a great, budget-friendly option for dinner and can be grilled, baked or sautéed.
This recipe pairs the pork chops with a flavoursome bean salsa. Beans are among the most versatile and commonly eaten foods throughout the world and contain a variety of vitamins, minerals and other nutrients. Beans also contain fibre, folate, iron, potassium and magnesium while containing little or no total fat, trans-fat, sodium and cholesterol. We use these beans as a topping in this pork recipe but you can also eat them on their own as they provide a good amount of protein per serving.
Ingredients
Low- cal cooking spray
240g 3 bean mix, (buy in a tin, drain and rinse)
½ red onion, finely chopped
½ cucumber, diced and peeled
1 tomato diced
2 tbsps of finely chopped fresh parsley
2 tbsps of lemon juice
2 tbsps of apple juice
240 g pork, in 4 steaks
250g baby spinach leaves
Salt and pepper
1 quartered lemon to serve
Directions
Mix the beans, onion, cucumber, tomato, parsley, apple juice, lemon juice and vinegar in a bowl.
Season with salt and pepper and chill in the fridge
Lightly spray a non- stick pan with low- cal spray and bring to a high heat.
Cook the pork steak for 2-3 minutes on either side. Remove from the heat and allow them to sit for a few minutes.
Place the spinach leaves on each plate, top with the pork, and accompany with the bean salsa.