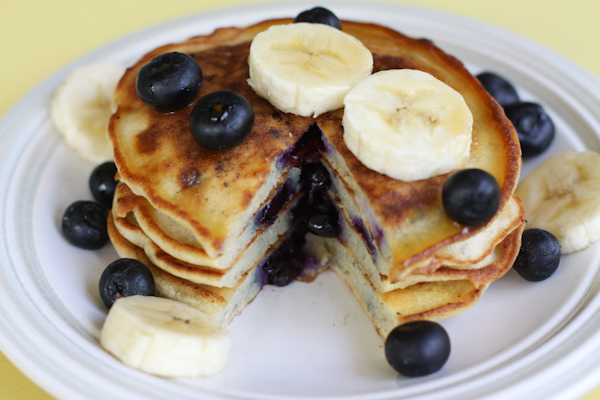 Traditionally trying to lose weight and get healthy would mean that carbohydrate laden pancakes were off the menu. But all that's changed and the good news for pancake lovers is that they've had a healthy makeover and there are now lots of new recipes with a very healthy nutritional profile. Not only do they make a scrumptious breakfast or brunch, but they are a great lunch box filler and are convenient for freezing and re toasting for supper or an on the go emergency snack.
Ingredients:
3 eggs
½ cup of cottage cheese
2 tablespoons of milk
1 teaspoon of coconut oil
1 teaspoon of vanilla extract
¼ cup of wholewheat flour (or plain)
1 teaspoon of baking powder
½ teaspoon of baking soda
Pinch of salt
Optional topping:
Blueberries, sliced banana and chopped strawberries.
Method:
Place all pancake ingredients in a food processor or blender and blend until smooth and runny.
Heat a little coconut oil in a medium sized pan over a medium heat.
Spoon batter into pan and cook until edges appear dry and bubbles start forming. Flip over onto other side for 1-2 minutes. Transfer to a plate or cooling rack and repeat process until batter is finished.
To serve, top with fruit and enjoy. You can add a spoonful of yoghurt for extra flavour.
This recipe would make 12 small pancakes or 6 large. Serves 2.
If you have any questions about any of our recipes or would like to know more about their nutritional profile then please don't hesitate to ask. Ask us on facebook or Twitter. Our recipes are suitable for all of Motivations' plans.