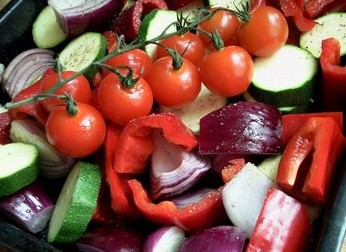 Meal Info
Serves: 4
Time: 40 mins
Food Plan Info
Free Veg: 2
Roasting is a great way to make vegetables taste delicious and it works for lots of different combinations. In this particular dish we have mainly used a range of Free Vegetables to keep the sugar content down. Our healthier take on roasted Mediterranean vegetables is delicious and is a great way to fill your plate with nutritious food to help you feel satisfied when you put down your fork and knife!
We chose to use a lot of red pepper in this recipe as not only are they tasty, the health benefits associated with them are never ending! Besides being a powerful antioxidant, red peppers are full of vitamin C, vitamin B6 and are also a great source of magnesium. This vitamin and mineral combination shows a decrease in anxiety, especially related to pre-menstrual symptoms. Vitamin B6 is also a natural diuretic which can help reduce bloating and prevent against hypertension.So when it comes to picking bell peppers at the super market, seeing red is a good thing!
The most important thing to remember when making this dish of roasted Mediterranean vegetables, it to make sure that your oven is hot, your vegetables are roughly the same size and that they get a good stir in the oven every now and again.
You can also make these roasted Mediterranean vegetables ahead of time and freeze them to use at a later date, the will be just as tasty!
Ingredients
1 large courgette, sliced and halved
1 head of broccoli, broken into small pieces
1 large red onion, peeled and chopped
8 cherry tomatoes, halved
2 red peppers, roughly chopped
1 green pepper, roughly chopped
3 tsp rosemary
2 tsp thyme
2 tsp garlic
½ tsp salt
½ tsp black pepper
Directions
Pre heat the oven at 180c
Coat an extra large roasting tin with 1 cal spray
Place all the ingredients into roasting tray and spray lightly with 1 cal spray
Add all the seasonings and give it a good mix to ensure all the vegetables are coated
Pop in to the oven for 25-30 minutes and serve.