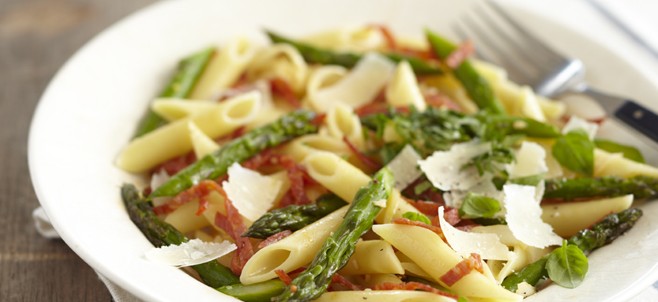 When you're looking for a healthy salad recipe to be a little special, bring out some star ingredients. Of all the varieties of fish available out there, salmon receives the most praise for being nutritionally outstanding. It is an excellent source of high-quality protein, minerals and vitamins (including potassium, selenium and vitamin B12) but it is the content of omega-3 fatty acids in salmon that receives the most attention. Omegas 3's help contribute to healthy brain function heart, joints and general well being. In addition to maintain a healthy heart, scientists now believe that fish consumption may lower the risk of many cancers as well as certain chronic diseases including Alzheimer's, asthma, depression, diabetes and high blood pressure.
This wonderful combination is a healthy salad recipe that I tend to make quite often as I just find it so satisfying but still light at the same time! You can also add or subtract ingredients if you would like to brighten up this recipe even more.
Healthy Salad Recipe – Salmon, Pasta and Asparagus
Ingredients
360g skinless and boneless salmon fillets
2 bay leaves
5 tbsp fat free vinagerette/ balsamic vinegar
1 tbsp lemon juice
35g fresh basil leaves
2 cups of cooked pasta
Salt and freshly ground black pepper
Low calorie cooking spray
200g fine asparagus – woody ends removed
35g rockets leaves
10g fresh Parmesan, very thinly sliced
Directions
Put the salmon and bay leaves into a small pan. Cover with cold water, bring to a boil, then reduce to a simmer and cook for 5 mins.
Drain and discard the bay leaves, and set aside until needed.
Meanwhile, put the vinaigrette, lemon juice and basil in a food processor. Season and whizz into a vivid green dressing, adding 1tbsp warm water if it's too thick.
Cook the pasta according to the packet instructions and drain well. Return to the pan and toss through two thirds of the dressing.
Spray a griddle or frying pan with low calorie cooking spray and place over a high heat. Cook the asparagus, in batches if necessary, for 3-4 minutes, turning once, until tender and slightly charred.
In a large bowl combine all ingredients together and toss well to mix.
Drizzle over the remaining dressing, divide the Parmesan between the dishes, twist some black pepper on top.
Chill at least 1 hour and up to 6 hours.