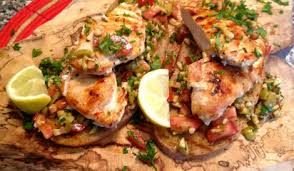 SAUTEED CHICKEN BREASTS WITH FRESH HERBS AND GINGER. (SERVES 2)
This Sauteed Chicken with fresh herbs and ginger meal is absolutely delicious and very easy to prepare an also low in carbohydrates. Preparation and cooking takes approximately 25 minutes.
Ingredients:
2 tablespoons vegetable oil
2 boneless skinless chicken breasts
Salt and freshly ground pepper
Juice of ½ lime (about 1 tablespoon)
1 chicken stock cube made into stock with water  (only 3-4 tablespoons needed)
2 teaspoons finely grated ginger
25 g fresh basil leaves torn
2 tablespoons fresh mint leaves, torn
–
Method:
Heat the oil in a medium pan over medium/high heat until shimmering.
Season both sides of chicken breasts with salt and pepper and place them in the pan.
Cook, turning once, until firm to the touch, about 5 minutes per side.
Transfer the chicken breasts to a plate.
Add the lime juice to the pan, and scrape up any browned bits that cling to the pan with a wooden spoon.
Add the chicken stock and ginger, and bring to the boil.
Turn off the heat, add the basil and mint to the pan and swirl the pan to combine.
Divide the chicken between 2 plates and spoon herb sauce over the chicken. Serve.
If you have tried this recipe or one similar and liked it why not let us know in the comments? We're always keen to share new recipes and dietary tips.