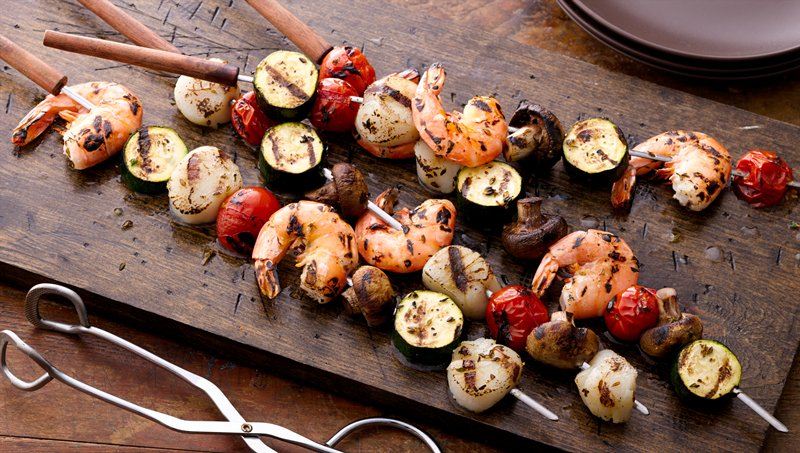 A delicious light savory meal for the brighter weather incorporating a variety of your favourite proteins. The seafood we have used in this weight loss recipe paired with the healthy veggies, is definitely backyard BBQ-ing at its best!
As scallops have a soft fleshy texture with quite a mild sweet flavour, they can be enjoyed by even those who are not particularly fond of fish or other seafood. Most of us are familiar with the fact that fish is good for you, but what about all the other types of seafood out there? As it happens to be, scallops contain a wide variety of nutrients that can promote heart health and also provide protection against colon cancer. Scallops are an exceptionally good ingredient to use in a weight loss meal plan as not only are they great source of lean protein, they are also low in fat and provide us with heart-healthy omega-3s. They provide us with 3 main minerals magnesium, phosphorus, and potassium. After calcium, phosphorus is known to be the mineral which is most abundant in the body and it is also important for healthy teeth and strong bones. All of this is enough to know this is one type of shellfish you want to make friends with!
Ingredients
Marinade
¼ cup dry sherry
1 tbsp sesame oil
1 tbsp fresh ginger root
2 tsp light soya sauce
1 large garlic clove crushed
16 large sea scallops
12 jumbo prawns
16 cherry tomatoes
12 medium mushrooms
1 courgette sliced
4 metal or soaked wood skewers
Directions
In a shallow cooking dish mix the sherry, oil, ginger root, soy sauce and garlic.
Place the scallops and prawns in the marinade, turning to coat ingredients.
Cover and refrigerate for 1 to 2 hours.
Remove seafood from marinade, reserving marinade.
Place marinade in a small saucepan, bring to a boil, reduce heat and cook for 5 minutes.
Keep warm.
Thread skewers, alternating scallops, prawns, tomatoes, mushrooms and courgette.
Preheats grill to medium heat and oil rack. Place kebabs on rack directly over heat, close lid and cook for approx. 10 minutes or until seafood is opaque, turning once or twice and basting occasionally with the warm marinade.
Makes 4 servings- count each as three proteins.