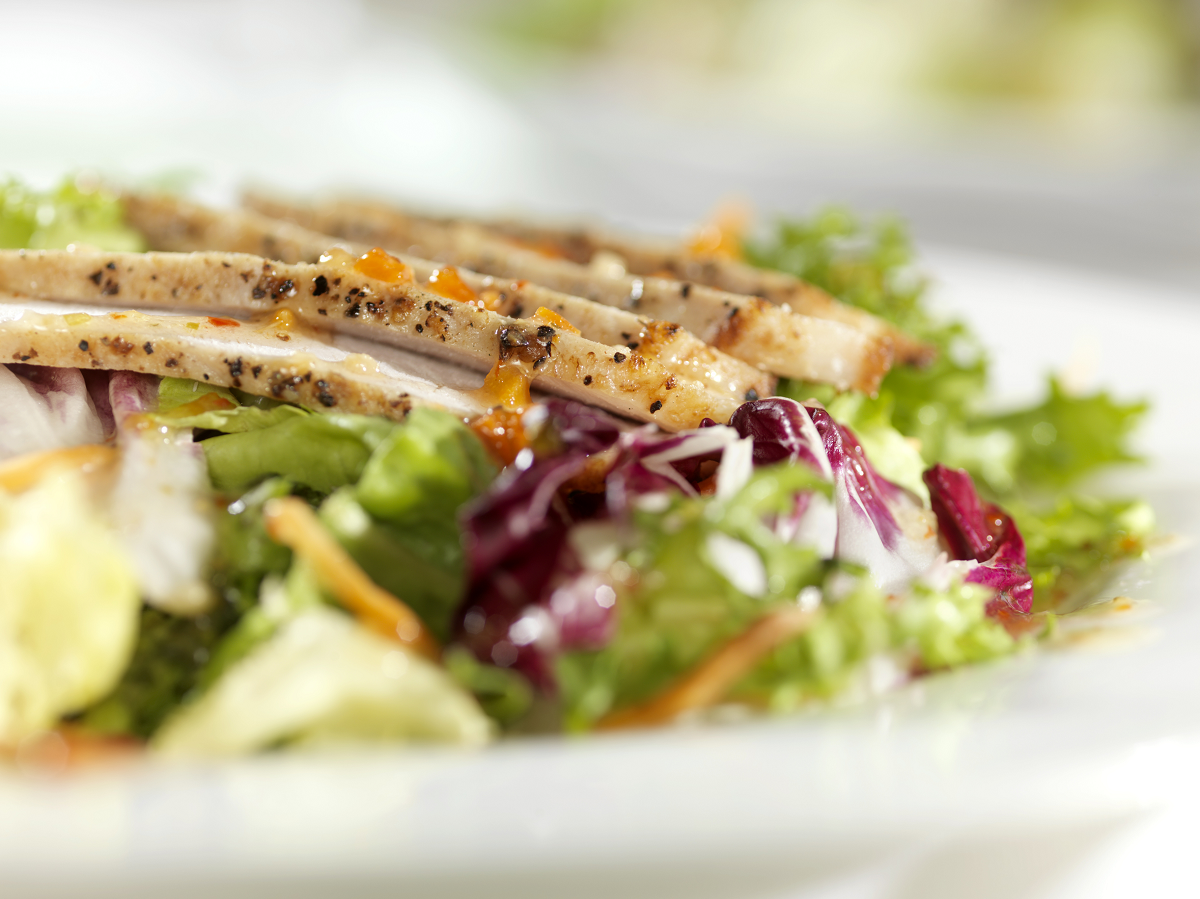 Did we need to share another combo of chicken and salad? Yes we did! This is so, so much tastier than your average chicken dish. The mixture of sunshine flavours like oregano and sage fresh along with the zesty lemon, really make this dish come alive so you can enjoy a healthy weight loss recipe and keep moving forward with your weight loss goals.
If you like, you can serve this on a bed of mixed salad leaves. Also, time permitting, you can thinly slice the chicken breasts just before serving.
Seared Chicken with Croatian Salad Ingredients
4 skinless chicken breasts
Juice of 2 lemons and finely grated zest of 1 unwaxed lemon
3 garlic cloves, crushed
1 tbsp each of finely chopped fresh rosemary and sage leaves
4 tbsp finely chopped fresh oregano leaves
¼ tsp grated nutmeg
Salt and freshly ground black pepper
For the salad
1 cucumber, halved lengthways, deseeded and sliced
1 green pepper and 1 red pepper, deseeded and very thinly sliced
1 onion halved and thinly sliced
4 tbsp finely chopped fresh flat leaf parsley
4 tbsp cider vinegar
A pinch of sweetener
Seared Chicken with Croatian Salad Directions
Make a few slashes with a sharp knife in the top of each chicken breast. Place in a non-metallic dish to fit snugly in a single layer.
Mix the lemon juice and zest, garlic, herbs and nutmeg and season. Spoon over the chicken to coat, then cover and marinate in the fridge for 2 hours or overnight if you can.
Put all the salad ingredients in a bowl, season and toss to combine. Chill for at least 30 minutes.
When ready to cook, heat a large griddle or frying pan to hot and in batched cook the chicken for 4-5 minutes on each side, or until cooked through.
Divide the chicken and salad between 4 plates.
Finish with a twist of fresh black pepper.