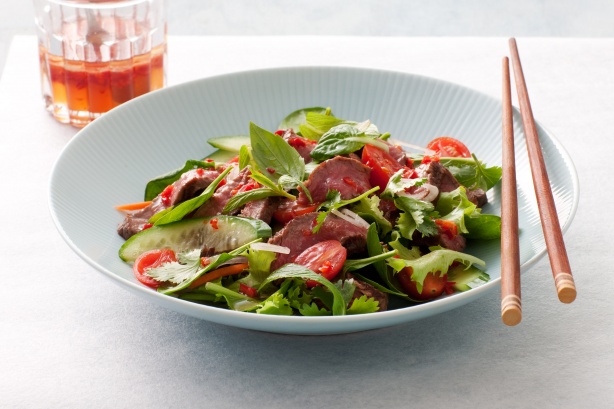 Meal Info
Serves: 4
Time: 15 mins
Food Plan Info
Protein: 2
Free Veg: 1
Restricted Veg: 1/4
This Thai Beef Salad is one of the ultimate healthy Summer salads, combining a good steak, salad and delicious Thai flavours. You can serve it on it's own as a light meal or on the side with some steamed rice for a more substantial Thai-themed meal.
This is an incredible Thai salad – try it, you won't regret it! You can also substitute the beef with pork fillets or chicken breasts or for the vegetarian option, some firm tofu.
This salad can also be prepared in advance, just cook the beef, prepare the salad, and blend up the dressing but be sure to store each of these in separate containers and don't combine them until you're ready to serve.
This is also an ideal on the go lunch or a picnic dish that can be transported in 3 small containers and assembled to make a great healthy summer meal on the spot.
Ingredients
1 bunch coriander, washed and separated into roots and leaves
3 cloves garlic
1 inch fresh ginger (or 1 generous teaspoon minced ginger)
3 chillies (e.g. Birds Eyes chillies)
1 tablespoon brown sugar
2 tablespoons fish sauce
Juice of 1/2 lime or 1 generous tablespoon lime juice
400 grams top quality porterhouse steak, trimmed and cut into slices.
100 grams mixed lettuce leaves
1 bunch mint
1 red onion
2 Lebanese cucumbers, seeds removed and sliced
200g cherry tomatoes
Instructions
1. Use a food processor to combine the coriander roots, garlic, ginger, chilies, sugar, fish sauce and lime juice into a marinate.
2. Reserve half of this mixture to use as dressing and use the other half to marinade the beef strips for 30 minutes.
3. After 30 minutes heat up a large fry pan and spray with Fry Light Spray. Fry the beef strips for a few minutes and then turn off the heat just before the meat is done to your liking. Remove the pan from the heat and let the beef cool in the pan.
4. Reserve the pan juices.
5. Arrange the reserved coriander leaves, lettuce leaves, mint, cucumber, onion, tomatoes and beef on a large platter.
6. Mix the pan juices into the dressing and then spoon the dressing over the salad, this Thai beef salad can be eaten warm or cold!