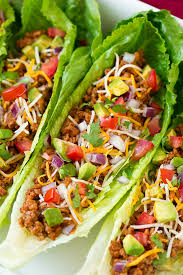 Turkey Taco Recipe
This flavoursome Turkey Taco recipe is easy, tasty and healthy as a meal for you and the family, ingredients can be scaled up and down to accommodate everyone.
Ingredients:
1 small onion
2 cloves garlic, peeled
1/3 cup packed fresh coriander
Juice of two limes
1/2 green chilli
1 Cal light spray
500g ground turkey breast
1/2 teaspoon chilli powder
1/2 teaspoon ground cumin
1 teaspoon dried oregano
1/4 teaspoon salt
1/4 cup water
2 heads of cos lettuce/ Baby gem or Chinese lettuce  works great for this
diced avocado and tomatoes for garnish
Directions:
In a food processor, add onion, garlic, coriander, lime juice and green chilli. Pulse and set aside.
In a medium non-stick sauté pan, heat 1 cal light spray over medium heat. Add ground turkey and cook, breaking up any large pieces, for 5 minutes. Add chilli powder, cumin, oregano and salt; stir together.
Add the blended coriander mix to the turkey and stir to combine. Cook until turkey is cooked through (about 5 minutes more). Add the water and turn the heat up to medium-high and bring to a simmer. Cook for an additional 1-2 minutes.
Turn heat off and allow the turkey mixture to stand while you prepare the lettuce wraps.
Wash and pat dry the lettuce leaves and top each with the turkey mix, diced tomato, avocado and extra cilantro if desired.