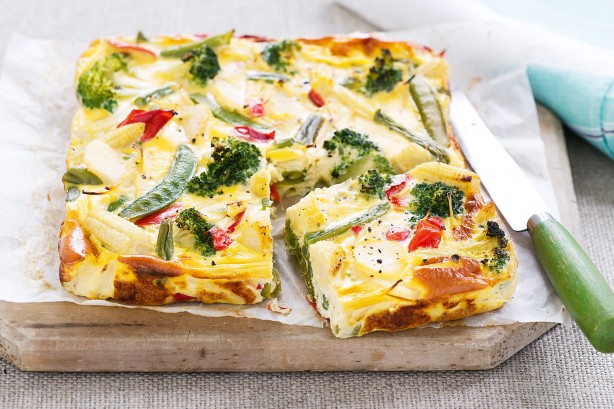 Vegetable Frittata
Vegetable Frittata: A frittata is a cross between an omelette and a quiche and can be eaten hot or cold, which makes it a great breakfast or lunch. It can be made ahead too and kept in the fridge.
Serves 6
Ingredients
6 eggs
½ head of broccoli, chopped
6 scallions chopped
½ teaspoon black pepper
½ teaspoon lo salt
2 cloves of garlic, minced
1 Cal fry light spray
1/2 red pepper,
1/2 green pepper
100g mushrooms
60ml low fat milk
Fresh parsley chopped finely
Instructions
1. Heat the low Cal oil in a large pan over a medium heat. Add the broccoli, scallions, peppers, mushrooms, garlic, and a little of the salt and pepper.
2. Cover and cook for 5 minutes or until vegetables are tender.
3. Whisk the eggs, parsley, milk and remaining salt and pepper together and pour over the vegetable mixture on the pan, make sure the vegetables are covered.
4. Turn the heat down to low and cook until the sides and centre are starting to set.
5. Put the entire pan in the oven at 180C for about 8 to 10 minutes. To check if its cooked make a slit in the centre if raw eggs run into the cut bake for another few minutes.
6. When cooked remove from the oven, after 5 minutes slice into wedges and serve. You can also leave to cool and refrigerate until you are ready to eat. It should last a few days.
Would you like to see more recipes like this? Let us know on Facebook or Twitter.