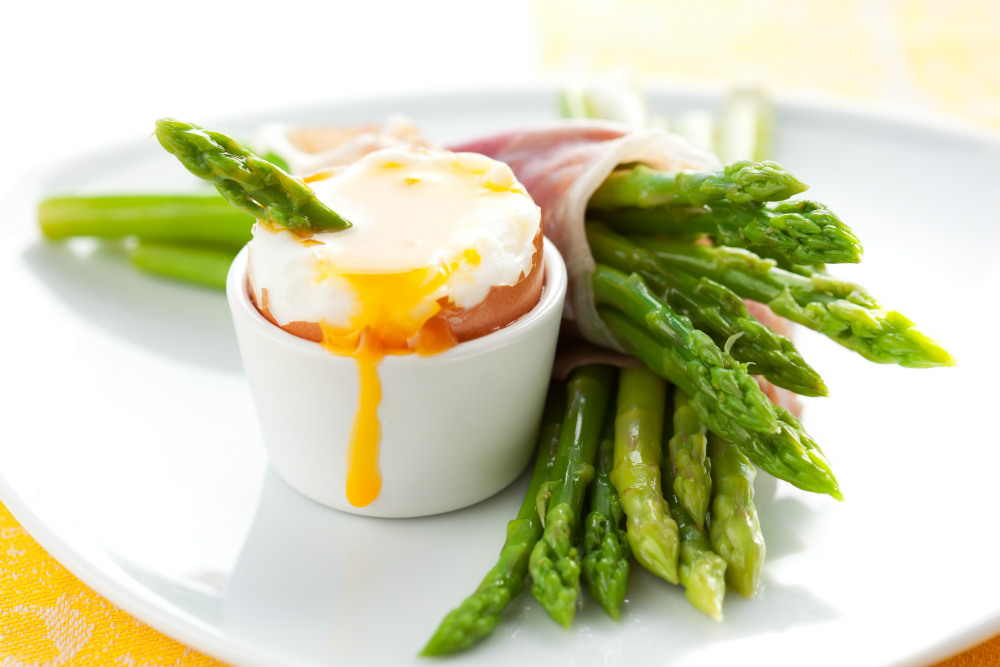 Meal Info
Serves: 4
Time: 10 mins
Food Plan Info
Protein: 2
Free Veg: 1/2
Boiled eggs with ham-wrapped asparagus soldiers is a high protein breakfast that is ready in under 10 minutes, meaning it's a super speedy option for mornings where you are pushed for time but still fancy something hot.
Replacing bread soldiers with asparagus spears makes this a carb free option that's still just as filling thanks to its protein content.
Serves 4
Time 10min
Protein 2
Free Veg 1/2
Ingredients
4 medium size eggs
200g asparagus spears
120g sliced ham
Directions
1. In the base of a steamer bring a saucepan of boiling water to the boil and carefully put the eggs into the water. Boil the eggs for 5-6 min depending on how set you like them.
2. Above the eggs steam your asparagus spears until tender. Remove the spears and wrap in small bunches (2/3) in the sliced ham.
3. Remove the eggs from the water and place in eggcups. Crack open and season with salt and pepper.
4. Use the wrapped asparagus spears for dipping in place of toast.