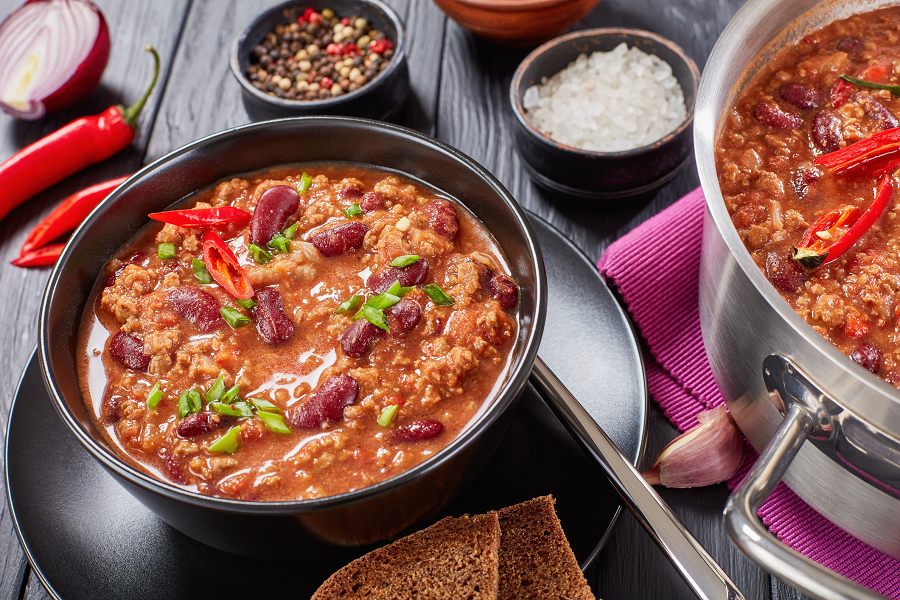 Meal Info
Serves: 4
Time: 20 mins
Food Plan Info
Protein: 3
Free Veg: 1
Restricted Veg: 1/4
Chilli con carne or chili con carne (with 1 l) meaning "chili with meat" is a spicy stew containing chili peppers, meat (usually beef), and often tomatoes and beans.
Other seasonings may include garlic, onions, and cumin. Geographic and personal tastes involve different types of meat and ingredients.
Recipes provoke disputes among aficionados, some of whom insist that the word "chilli" applies only to the basic dish, without beans and tomatoes. This dish is a staple of many students the world over; it's wholesome and really easy to prepare and cook.
We do have an alternative version made with turkey, for those of you that prefer a leaner meat- it too is delicious.
Chilli Con Carne Ingredients:
240g lean mince
1 onion chopped
1 pack of chilli seasoning mix, look for one low in sugar
1 tin chopped tomatoes
1/2 of one beef stock pot
240g of kidney beans
Boiling water
Directions
Fry off the onion in a little 1 calorie spray and then add in the mince.
When cooked, add in your spice mix and stir to cook off slightly before adding the tin of tomatoes.
Rinse the kidney beans under cold water and add to the chili. Melt the stock cube and about 1/2 a pint of boiling water and add to the chili, leave on a low heat for ten-fifteen mins to simmer and reduce slightly. Season with salt and pepper to taste.
Serve with a portion of brown rice or salad. Add some chopped red chili if you like it really hot.