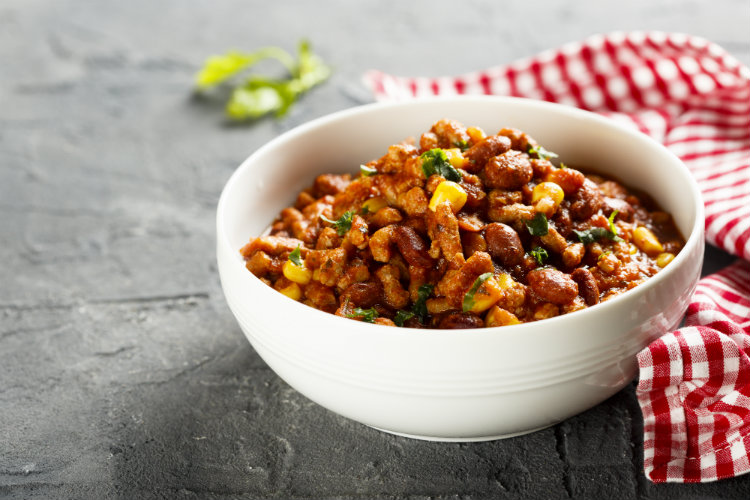 Meal Info
Serves: 4
Time: 20 ins
Food Plan Info
Protein: 2 1/2
Free Veg: 1 1/2
Restricted Veg: 1
Chilli is one of my favourite meals to batch cook and portion to have on hand in my fridge or freezer. This protein packed chilli con Turkey is especially warming at this time of year. This recipe is packed full of lean protein thanks to the use of turkey in place of traditional beef mince.
It is extremely filling with the inclusion of extra vegetables and the kidney beans so I don't find I need rice with it but feel free to serve with some in line with your carbohydrate allowance.
Time: 20min
Ingredients
* 480g turkey mince
* 1 tin of chopped tomatoes (no added sugar)
* 1 medium yellow onion
* 1 courgette
* 60g sweetcorn
* 120g tinned red kidney beans
* 1 bulb of garlic
* 1 packet of dry chilli spice mix seasoning
* Coriander leaves to garnish
Directions
Start by dicing your onion and courgette, add to a pan on a medium heat that has been sprayed with 1 cal spray. As the onion starts to soften and the courgette cooks add in 1 bulb of minced garlic.
Add in your turkey mince and continue to stir frequently.
Once the turkey has turned from pink to white, sprinkle over the packed of spice mix and brown.
Pour over the tin of chopped tomatoes.
Reduce the heat and leave to simmer for ten minutes.
Add in your rinsed kidney beans and the sweetcorn and cook for a further ten minutes before serving.