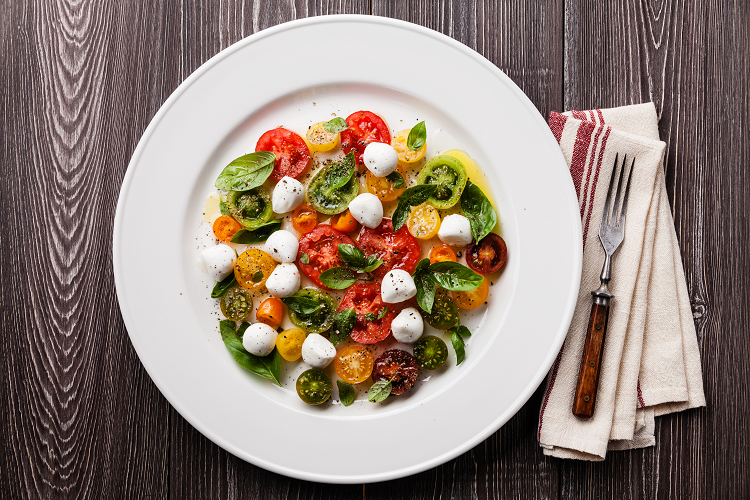 Meal Info
Serves: 4
Time: 10 minutes
Vegetarian: Yes
Food Plan Info
Protein: 1
Free Veg: 1
Fat: 1
This simple Caprese salad or cherry tomato and mozzarella salad dish screams summer to me, I love it as a side dish with dinner or on it's own at lunch time.
You can adapt the recipe and add leaves of your choice like rocket or spinach but make sure to include the fresh basil as it makes all the difference!
Caprtese Salad Ingredients 
140g low fat mozzarella (if you can find the pearls they make for a prettier salad but otherwise torn pieces will do)
300g mixed cherry tomatoes (use a mix of yellow, green, red and orange as they are in season at this time of year and full of flavor)
1 handful of torn fresh basil leaves
40g of green pesto
1 tsp cracked black pepper
½ tsp salt
Caprtese Salad Directions
Half all of the cherry tomatoes and layer on a serving plate
Top with your mozzarella and torn basil leaves
In a mug, loosen your pesto with 1 tsp of warm water to make it a suitable consistency for drizzling then pour over your salad
Season with salt and pepper and enjoy!