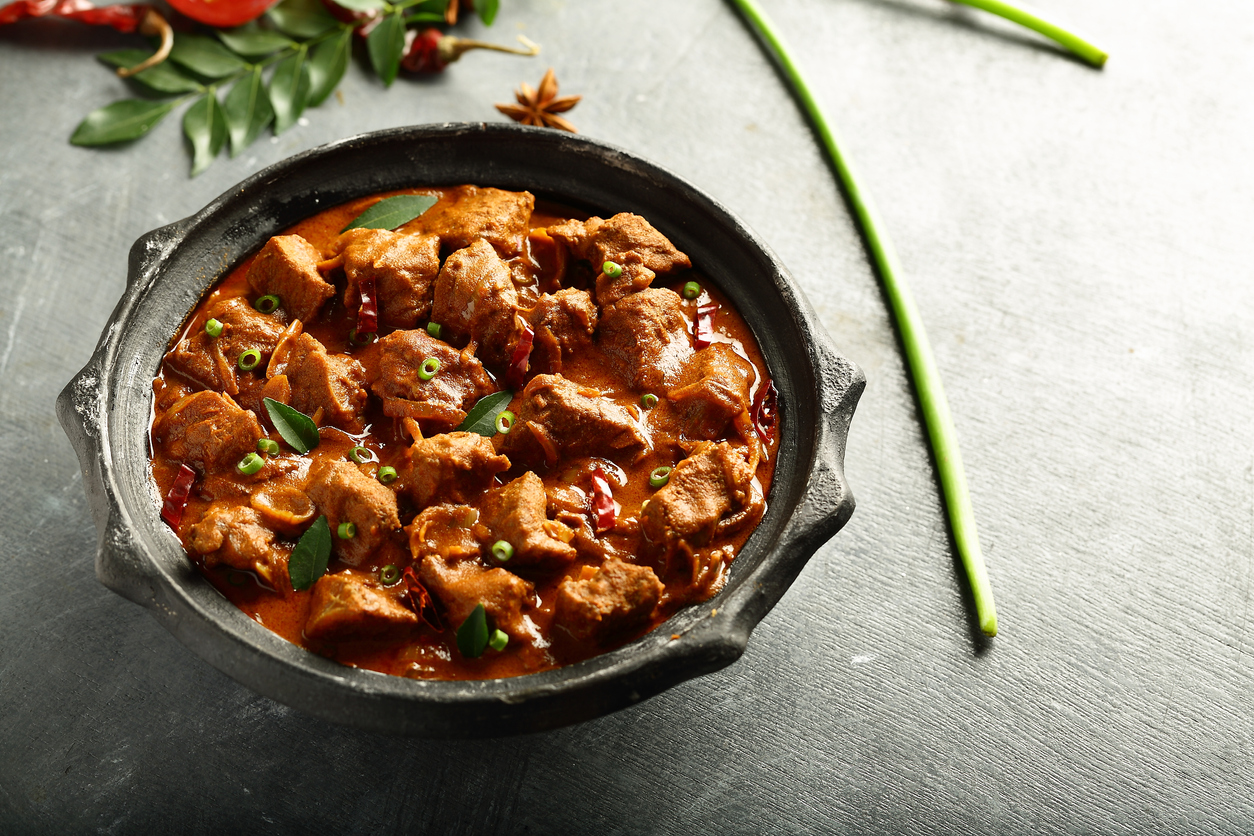 Meal Info
Serves: 4
Time: 2 hours
Food Plan Info
Protein: 2
Free Veg: 1
Restricted Veg: 1
Fat: 1
According to Wikipedia, 'Curry is an umbrella term referring to a number of dishes originating in the cuisine of the Indian subcontinent. … The use of the term is generally limited to dishes prepared in a sauce. Curry dishes prepared in the southern states of India may be spiced with leaves from the curry tree.'
Today's recipe is a classic lamb curry packed full of the flavours we associate with Indian cooking. Plus it's pretty easy to prepare and cook.
Ingredients 
Thumb-sized piece ginger, ½ cut into matchsticks, the rest left whole
1 onion, quartered
2 garlic cloves
1 tbsp rapeseed oil
1 cinnamon stick
1 tbsp ground coriander
1 tsp ground cumin
1 tsp ground turmeric
½ tsp fennel seeds
240 leg of lamb, diced
400g can chopped tomatoes
1 red chilli or green chilli, deseeded and sliced
Small bunch coriander, stalks finely chopped, leaves roughly chopped
Directions
In a food processor, blitz the whole piece of ginger, the onion and garlic with 200ml of water. Transfer into a saucepan, put the lid on and bring to a simmer. Remove the lid and cook for 5-10 mins more, stirring occasionally on a low heat. Cook until the liquid has evaporated. Set aside.
Add the oil to a hot pan with the rest of the ginger. Fry, stirring, for 3-5 mins until it starts to colour.
Stir in the spices and add the lamb continuing to cook until it browns. Next add the tin of tomatoes, the reduced ginger, onion, garlic and the chilli, season with salt and pepper, cover and leave to simmer for 1 hr.
Stir in the coriander stalks, re-cover and cook for a final 30 mins until the lamb is tender. Add a splash of water if necessary to loosen the consistency as it cooks. Stir in the coriander leaves and serve with salad, rice or potatoes of choice.