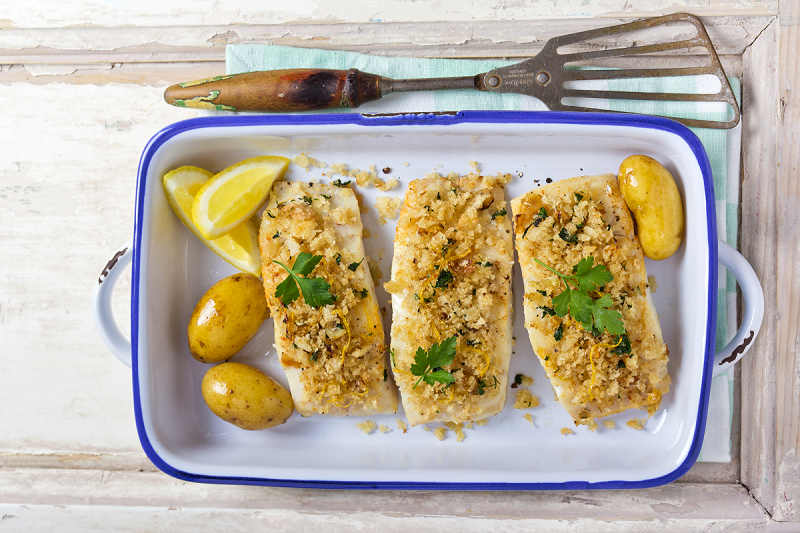 Meal Info
Serves: 4
Time: 40 mins
Food Plan Info
Protein: 1 1/2
Restricted Veg: 1/4
Fat: 1/4
Carbohydrate: 1/2
This week we have teamed up with Diabetes Ireland to share with you one of their own recipes – crusted cod, many more of which can be found on over on their website.
This crusted cod recipe is perfect for anyone on one of our weight loss programmes here at Motivation. If you are on the accelerator plan simply leave out crust and swap for free seasonings like chili, garlic, and ginger.
Serve this fish with a free vegetable salad at lunchtime or some new potato and steamed vegetables for a larger meal.
Time: 40min
Serves: 4
Protein 1.5
Carb ½
Restricted Veg 1/4
Fat 1/4
* 4 fillets of cod, around 480g / 17 oz.
* 2 slices of wholemeal pan bread, grated into crumbs, around 60g / 2 oz.
* 1 medium onion, finely chopped
* 1 tablespoon of finely chopped fresh parsley or 1 heaped teaspoon of dried parsley
* 1 teaspoon of vegetable oil
* A little lemon juice, or grated rind to taste
* Salt and pepper, to taste
Method
* Pre-heat the oven to 180°C / 350°F / Gas Mark 4
* Clean and prepare fish. Dry in kitchen paper
* Mix breadcrumbs, chopped onion, parsley, salt and pepper, in a small bowl
* Heat oil and stir into crumb mixture. Finally, add a little lemon rind or juice
* Lay 4 fillets on a greased dish, skin side down and spoon stuffing carefully onto each fillet
* Flatten down well and cover with the other four fillets
* Cover with foil
* Bake for 20 to 30 minutes, depending on size and thickness of fish
* Lift fish carefully onto a warmed serving dish