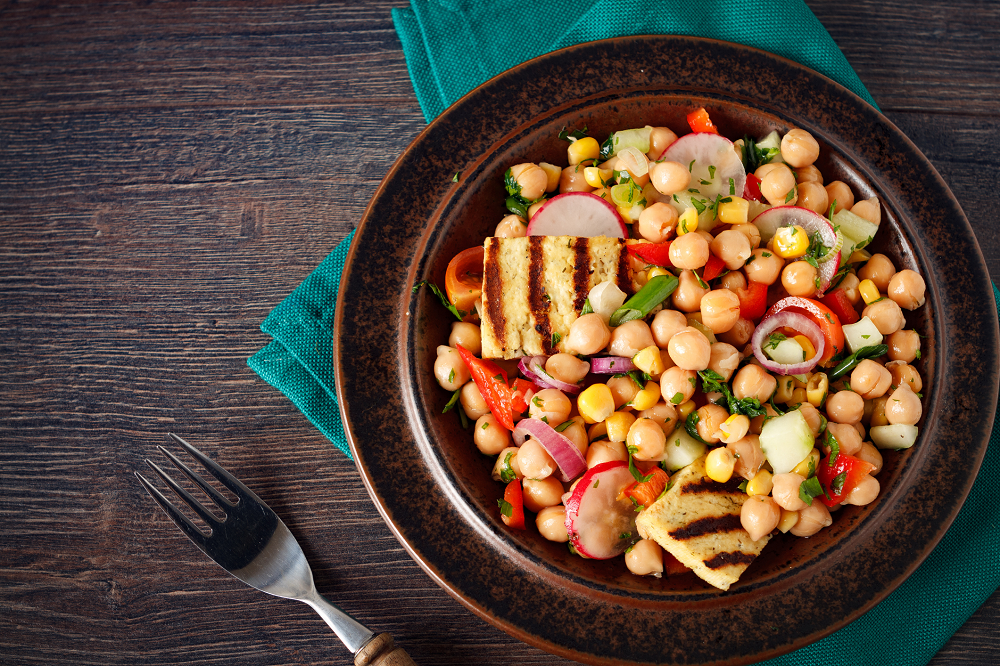 Meal Info
Time: 5 mins prep and 5 mins cook
Food Plan Info
Protein: 2
Free Veg: 1
Restricted Veg: 1/4
Fat: 1
Full of protein, this grilled tofu chickpea salad recipe is a great option for vegetarians.
Tofu, or bean curd, is a popular food derived from soya. It is made by curdling fresh soya milk, pressing it into a solid block and then cooling it – in much the same way that traditional dairy cheese is made by curdling and solidifying milk. The liquid (whey) is discarded, and the curds are pressed to form a cohesive bond. A staple ingredient in Thai and Chinese cookery, it can be cooked in different ways to change its texture from smooth and soft to crisp and crunchy.
Ingredients
240g chickpeas
280g tofu
1 red pepper, sliced
100g sliced radish
100g scallion, roughly chopped
1 red onion, finely sliced
1 cucumber, diced
1 tbsp chopped coriander leaves
Juice of one lemon
2 tbsp olive oil
½ tsp sea salt
½ tsp black pepper
Directions
In a pan or under a grill, fry or grill your tofu chunks until charred lightly on each side.
Rinse your chickpeas in some water and transfer to a bowl.
Combine all of the ingredients and dress with the lemon juice, olive oil and season with your salt and pepper.
Click here to download your copy of the Grilled Tofu Chickpea Salad