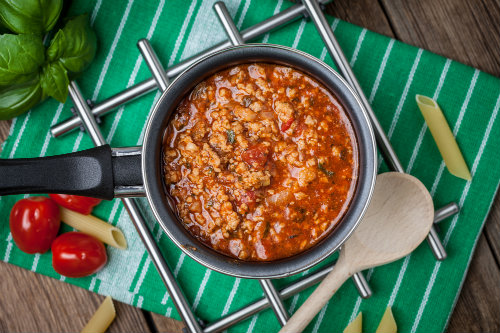 Meal Info
Serves: 4
Time: 30 mins
Food Plan Info
Protein: 1 1/2
Free Veg: 2
Restricted Veg: 1/2
Fat: 1 (optional)
Turkey is not only a great source of protein but is also extra lean meaning it contains very little fat and is low in calories. Minced turkey breast is now wide available in supermarkets and is a fantastic replacement for traditional beef mince that is often high in saturated fat.
I regularly use it in place of beef when making chilli, meatballs or bolognese as by the time it absorbs the flavour of your homemade sauce it's honestly hard to tell the difference. This low fat turkey bolognese is so easy and quick to make it's the perfect mid-week fix!
Serves 4
Time 30 min
Protein 1 1/2
Free Veg 2
Restricted Veg 1/2
Fat 1 (optional)
Ingredients
360g Turkey Mince
400g tin chopped tomatoes
1 large white onion, diced
2 cloves garlic, minced
1 tbsp Italian herb seasoning
1 tsp Worchester Sauce
1 tsp tomato puree
400g spiralled courgette
40g fresh grated parmesan
Directions
1. Spray a large sauce pan with 1 cal spray and place on a medium heat. Add in the diced onion and stir until they begin to soften. Next, add in the two cloves of minced garlic and continue to stir on a low heat.
2. Add in the turkey mince and cook off until all of the mince has turned white and browned slightly.
3. Pour in the tin of chopped tomatoes, add in the seasoning, tomato puree and Worchester sauce.
4. Leave to simmer on a low heat for 15 minutes.
5. While the bolognese is simmering, flash fry the spiralized courgette in a separate pan again using 1 cal spray. Don't over heat it or it will go mushy, just warm ever so slightly.
6. Serve the bolognese on a bed of your courgette noodles and dust with fresh Parmesan should your plan allow it.