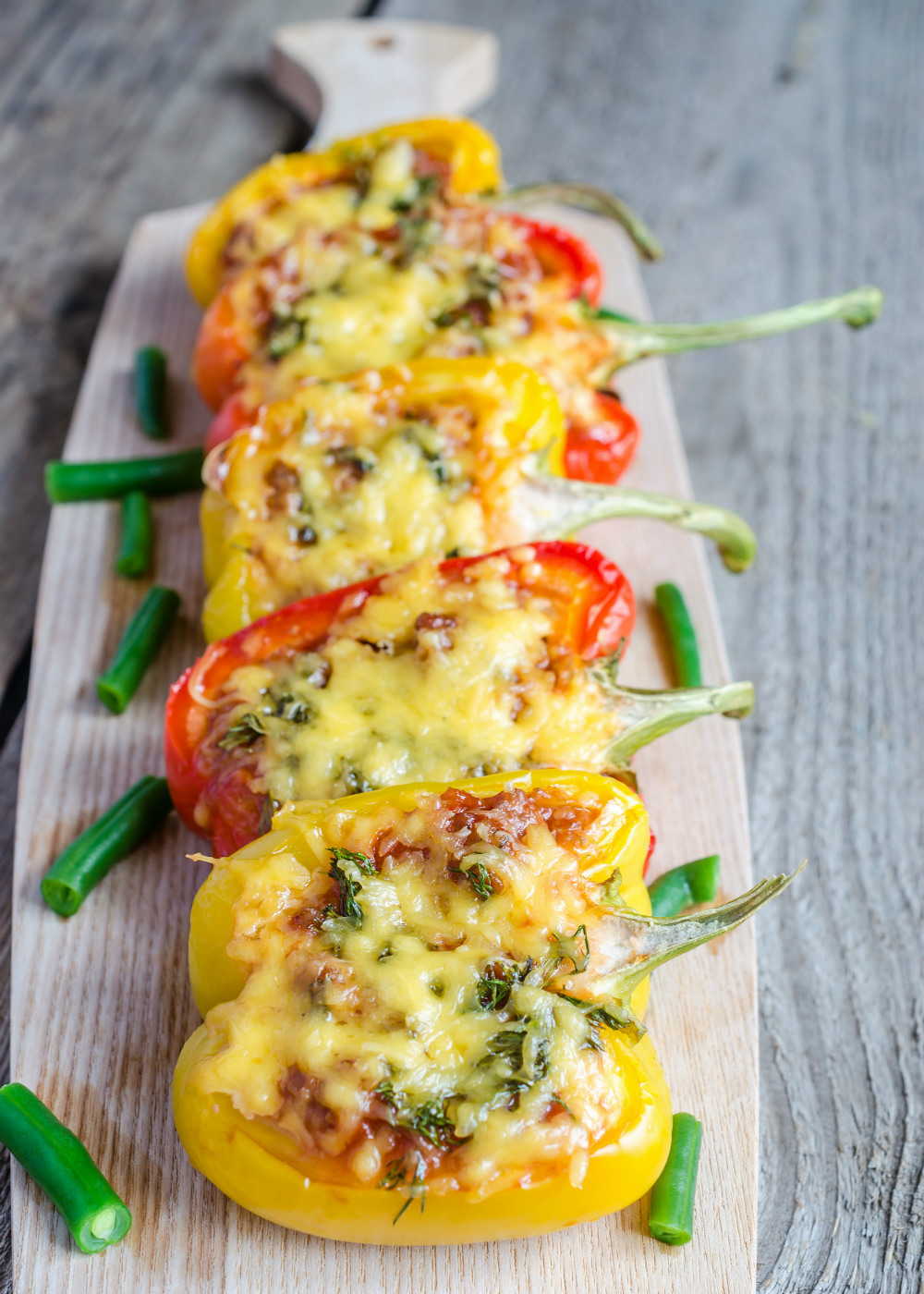 Food Plan Info
Protein: 2
Free Veg: 1 1/2 cups
Restricted Veg: 1/2
Carbohydrate: 1
The great thing about this recipe is that you can adapt it to your preference. Feel free to swap vegetables for your favourites, carrots, celery, mushrooms and diced peppers also work well as stuffings.
If you want to leave the meat out and have this as a vegetarian option do. While quinoa is counted as a carbohydrate it is also a fantastic source of protein so this recipe is sure to keep you feeling "stuffed" all evening.
If you've used your carbohydrate allowance by dinner time just leave out the quinoa and add another serving of mince for a delicious protein packed dinner.
Protein 2
Free Veg 1 1/2 cups
Restricted Veg 1/2
Carbs 1
INGREDIENTS
200g cooked quinoa
1 onion diced
4 scallions thinly sliced
2 cloves garlic minced
120g extra lean beef mince
4 red peppers halved and seeded
1 400g can of chopped tomatoes
100g grated light cheddar cheese
2 Tbsp olive oil
1 ½ tsp chili powder
1 ½ tsp cumin
½ tsp paprika
¼ tsp cayenne
Salt and pepper
2 limes cut into wedges
INSTRUCTIONS
1. Preheat oven to 200'C. If you're not using precooked quinoa prepare as per instructions.
2. Arrange the pepper halves on a baking sheet and pray with 1 cal spray oil. Sprinkle with salt and pepper. Bake until softened , 7-10 minutes.
3. Meanwhile heat a large pan over medium-high heat and spray with 1 cal spray oil. Add onions, scallion and garlic, cook for 4-5 minutes, until softened. Add mince and break up as it browns, 3-4 minutes. Stir in chili powder, cumin, paprika and cayenne and cook for an additional 30 seconds. Add in tomatoes and let simmer for 5 minutes. Stir in cooked quinoa.
4. Fill peppers with beef mixture and sprinkle with cheese. Bake for a further 10 minutes. Serve with lime wedges on the side.