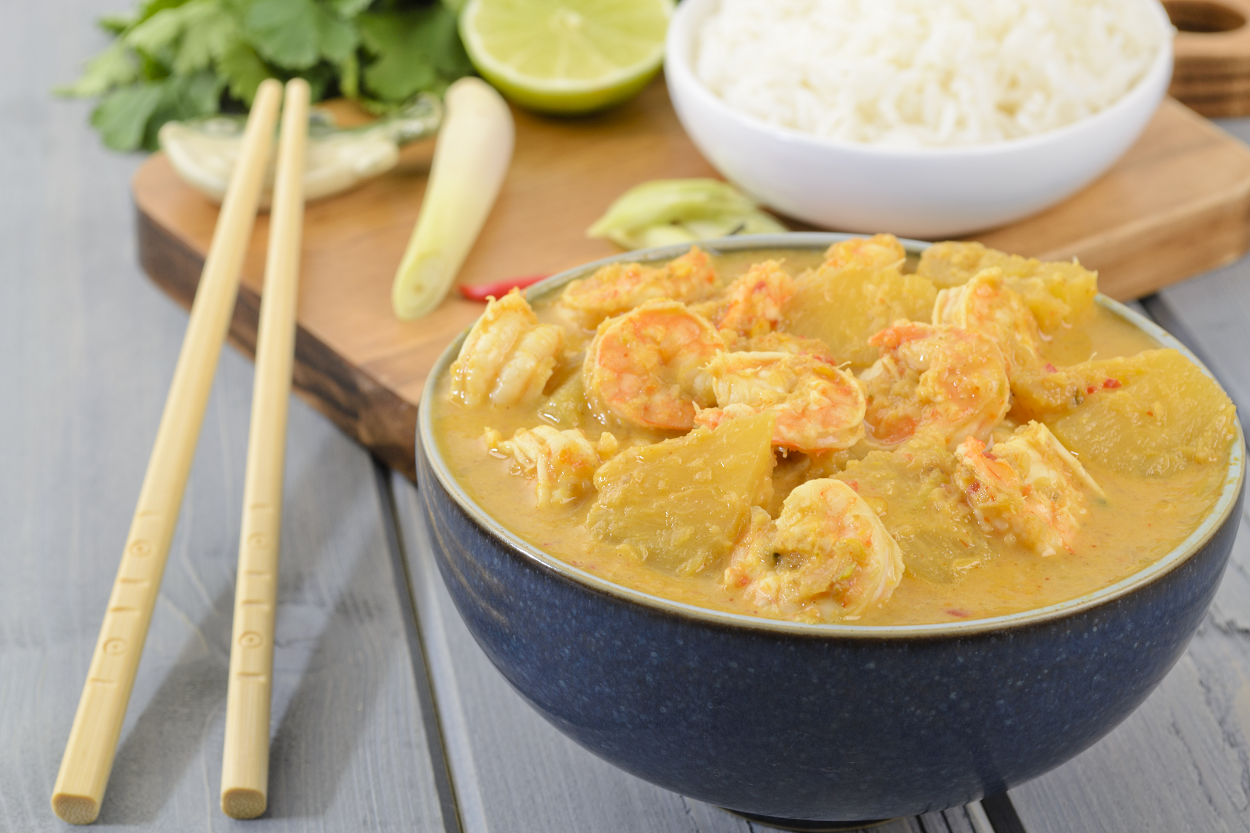 Meal Info
Serves: 4
Time: 30 mins
Food Plan Info
Protein: 2
Fat: 1 1/2
Carbohydrate: 1
Fruit: 1/2
When you're craving a takeaway reach for this Prawn and Pineapple Penang Curry recipe!
Packed full of flavour with none of the guilt, try this once and it will quickly become a firm favourite!
If you don't like prawns or don't have them to hand, swap for any other meat or try tofu as a vegetarian option, they all work well!
Ingredients
1 thumb-sized piece ginger, peeled
4 cloves of garlic, peeled
1 tbsp mild curry powder
5 curry leaves
1 cinnamon stick
40ml coconut oil
1 star anise
2 cardamom pods
4 cloves
4 shallots, thinly sliced length ways
2 tbsp tamarind paste
200g pineapple, cubed (fresh if possible but tinned will also work)
1 tsp stevia
200ml low fat coconut milk
360g large raw king prawns, peeled
Handful coriander leaves
260g cooked brown rice or 220g of cooked basmati rice
Directions
Using a pestle and mortar or a blender grate the ginger into the garlic and blend together.
Make a loose curry paste by adding 75ml water to the curry powder.
Heat the coconut oil in a wok then add in the curry leaves, cinnamon stick, star anise, cardamom pods and cloves and cook for 1 min until fragrant.
Add the shallots and ginger and garlic paste, cook for around 7 mins until softened and starting to brown, then add the curry powder paste.
Reduce to a very low heat and wait until the oil separates and bubbles over the paste, around 10-12 mins. Scrape the bottom of the pan occasionally to remove the crust.
When the oil has come to the top, add the tamarind paste, pineapple and stevia. Pour in the coconut milk. When the mixture starts bubbling, add the prawns and return to the boil until they are cooked through, about 3 mins.
Season the Prawn and Pineapple Penang curry with salt if needed, scatter over the coriander and serve with your rice of choice.
Click here to download your copy of the Prawn and Pineapple Penang Curry.