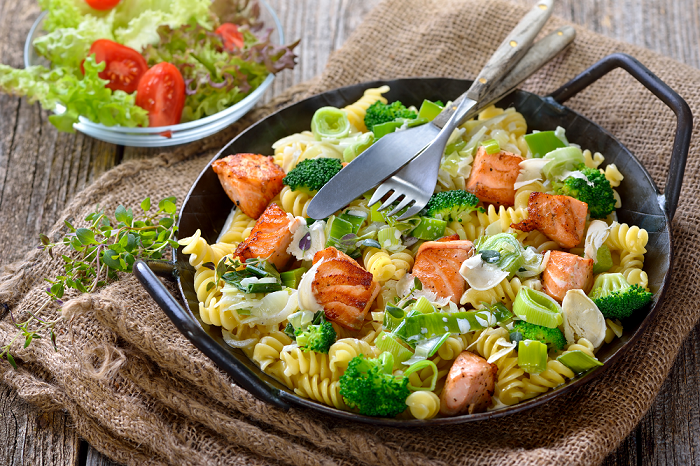 Meal Info
Serves: 4
Time: 25 mins
Food Plan Info
Protein: 1
Free Veg: 1/2
Restricted Veg: 1/4
Dairy: 1/6
Carbohydrate: 1
Serves 4
Time 25min
Dairy 1/6
Free Veg ½
Restricted Veg ¼
Carb 1
Protein 1
Ingredients
* 1 pinch Black Pepper
* 1 pinch Salt
* 1 head Broccoli cut into bite-sized florets
* 100 ml Creme Fraiche 0% fat
* 100g leeks
* Juice of 1 lemon
* 200ml skimmed milk
* 280g cooked wholegrain pasta
* 180g Salmon
Directions
1. Start by grilling or oven baking your salmon, to speed it us you can buy precooked barbequed salmon in the supermarket in the same place they sell smoked salmon usually. Grilling or baking will take approx. 20min at 180'c. Once it has cooked, flake gently with a fork.
2. Meanwhile cook your pasta in a separate pot, steaming the broccoli above it.
3. In a large pan fry off your leeks and add in the crème fraiche and milk stirring well. Leave it to simmer while the pasta and salmon finish cooking to reduce slightly.
4.  Juice the lemon and add to the pan along with the broccoli, salmon and drained pasta
5. Season with salt and pepper and serve the salmon and broccoli pasta