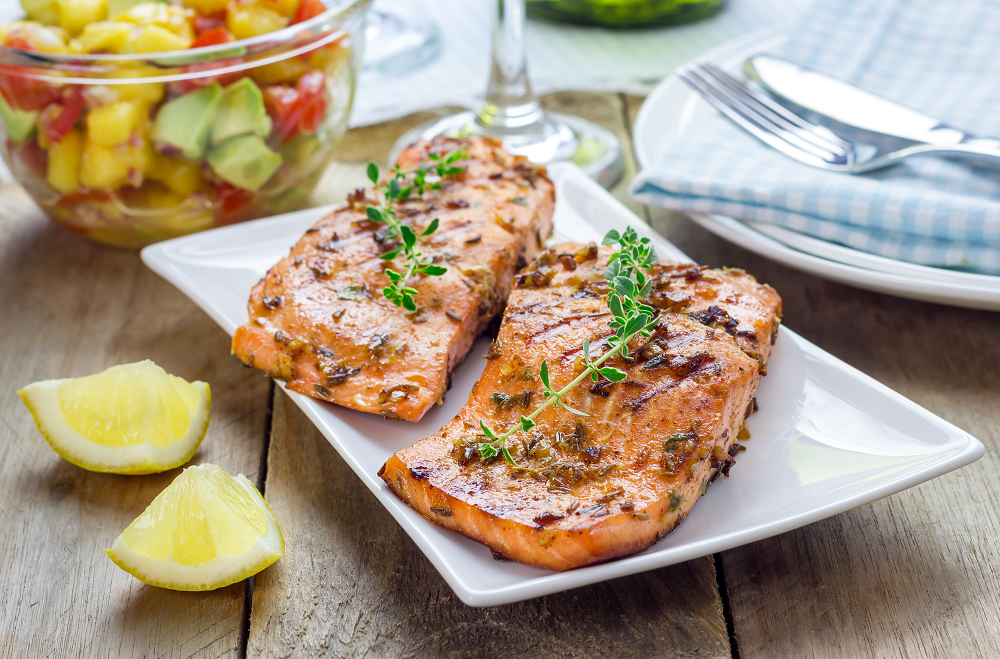 Food Plan Info
Protein: 2
Free Veg: 1
Restricted Veg: 1/2
Fat: 1 1/2
Fruit: 1/2
Salmon is rich in the essential fatty acids we need that keep our skin, hair and nails glowing and our brains ticking. In addition, Omega-3 fatty acids have been shown to help reduce inflammation, get you sleeping better and can even help lower blood pressure. Take advantage of mangos, avocados and tomatoes being in season and tasting better, work them into this delicious salsa that makes the perfect summer accompaniment to any meal, be it chicken or steak or in this instance saucy salmon.
Protein 2
Free Veg 1
Restricted Veg ½
Fruit ½
Fat 1 ½
Ingredients
For the Salmon
360g of salmon fillets
Marinade
– 2 scallions, roughly chopped
– 40g cilantro, roughly chopped
– 2 garlic cloves, minced
– 1 tsp lime zest
– juice of one lime
– 1 tbsp dark soy sauce
– ½ tsp stevia
For the Mango Salsa
– 100g cherry tomatoes
– Fruit from 1 large mango, cubed
– 100g of avocado flesh, cubed
– 1 red pepper, diced
– 1 small red onion, diced
– Juice from 1 lemon
– 1 small red chilli, deseeded and finely sliced
– 1 tbsp balsamic vinegar
– 1 tbsp olive oil
Directions
1. In a bowl mix together all of the ingredients for the salmon marinade.
2. Place the salmon fillets in a bowl or Pyrex dish and score the fish lightly.
3.  Cover the fillets with the marinade and seal the bowl with cling film, leave to marinade for at least 30 minutes.
4. After the 30 minutes or more, wrap the salmon in tin foil and place into a preheated oven at 180'c. Cook for 20-25 minutes checking the salmon has cooked through by gently breaking apart the flesh with a fork. It should have turned pale-pink throughout.
If you prefer, you can cook the salmon wrapped in the tin foil, over hot coals for 20 mins. Perfect for the BBQ.
5. While the salmon cooks, mix together your salsa by simply combining all ingredients in a bowl.
6. Serve alongside your salmon for a fresh and tasty summer meal!
Saucy Salmon with Mango Salsa – a real summer dish, enjoy!