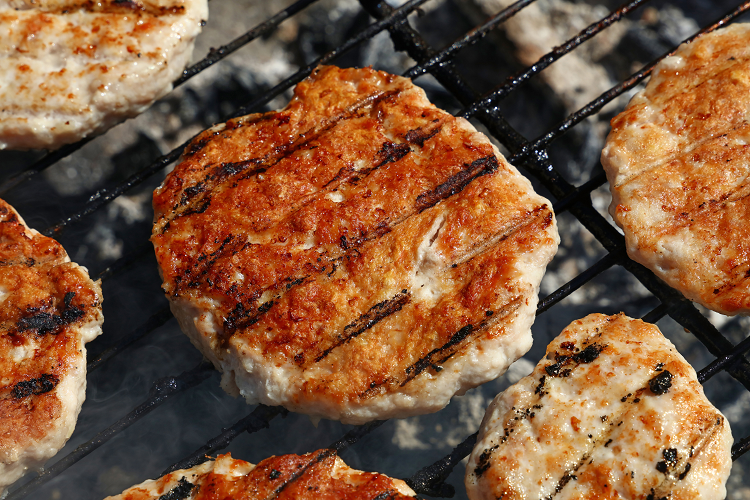 Meal Info
Serves: 4
Time: 10
Food Plan Info
Protein: 2
Restricted Veg: 1/4
Carbohydrate: 1/5
These spiced turkey burgers make a great low-fat alternative to beef burgers and are ready to cook in under ten minutes.
Turkey is not only a great source of protein but is also extra lean meaning it contains very little fat and is low in calories. Minced turkey breast is now wide available in supermarkets and is a fantastic replacement for traditional beef mince that is often high in saturated fat.
Ingredients
½ red onion, grated
25g fresh wholegrain breadcrumbs
400g turkey mince
3 cloves of garlic
1 red chilli finely diced (de-seed if you don't want them too spicy)
2tsp coriander seed
2 tsp cumin seeds
1 tbsp freshly chopped coriander
½ tsp salt
½ tsp black pepper
1 egg yolk
Directions
In a large non-stick pan, toast the coriander and cumin seeds until they start to release a scent, about 1-2 min. Don't let them burn, move around in the pan continuously.
Pop into a pestle and mortar and grind. If you don't have a pestle and mortar wrap the seeds in cling film and roll with a rolling pin to grind. Once crushed and smooth, transfer to a mixing bowl.
Add the turkey, grated onion, breadcrumbs, garlic, chilli, egg yolk and seasoning, then mix. Shape into 8 burgers.
They can be cooked on a BBQ or in a pan. To pan fry spray a pan with fry light spray and fry the burgers for 3-4 min on each side until browned and cooked through.
Serve with a side salad, makes 2 spiced turkey burgers per person.