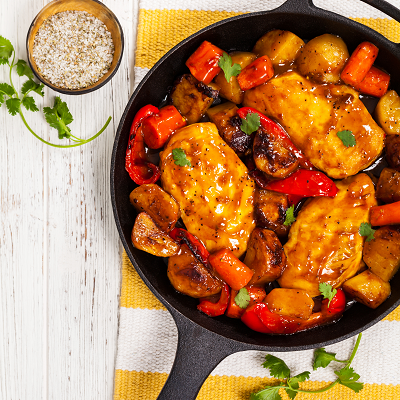 Meal Info
Serves: 4
Time: 45 mins
Food Plan Info
Protein: 2
Free Veg: 1/2
Restricted Veg: 1/2
Fat: 1
Carbohydrate: 1/4
This summer chicken stew dinner makes a fabulous group meal as apart from the carrots it all cooks in one pot and is easy to serve in a big sharing dish to let people help themselves. It's grain free and only contains carbohydrates because of the white wine in the sauce.
Full of flavour, the summer chicken stew is always a crowd pleaser.
Ingredients
4 chicken breasts on the bone
1 tsp salt
1 tsp freshly ground black pepper
2 tbsp olive oil
2 red pepper, sliced
2 carrots, sliced into chunks
2 cloves garlic, chopped
450g tin chopped tomatoes
75 ml white wine
1 tbsp fresh thyme leaves
1 tsp fresh oregano leaves
100ml chicken stock
1 tbsp capers
10g chopped fresh flat-leaf parsley leaves
Directions
Season the chicken with 1/2 tsp salt and 1/2 tsp pepper. In a heavy, large frying pan, heat the olive oil over medium heat, you could also use Fry Light Spray instead of the oil but it will affect the flavour slightly. When the oil is hot, cook the chicken until browned on both sides. Remove from the pan and set aside.
Parboil the carrots for about 10 minutes and then add to the pan.
Keeping the same pan you cooked the chicken in over medium heat, add the peppers and cook until they have browned and softened slightly, about five minutes. Add the garlic and cook for one minute. Add in the tin of tomatoes, white wine, and herbs. Using a wooden spoon, scrape the browned bits off the bottom of the pan. Return the chicken to the pan, add the stock, and bring the mixture to a boil. Reduce the heat and simmer, covered, until the chicken is cooked through, about 20 to 30 minutes.
When you are ready to serve, add in the parsley and capers 2 minutes before. This dish can be made in advance and stored in the fridge to reheat, just keep the flat leaf parsley and capers out until then.