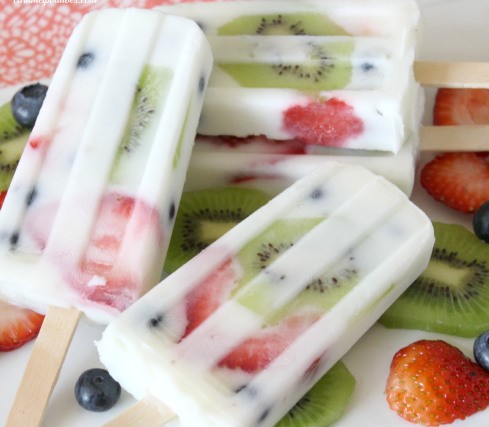 You Need To Try These Fruity Yogurt Ice Pops!
You Need To Try These Fruity Yogurt Ice Pops!: Summer is just around the corner which means it's time to start filling that recipe book with blissful and cooling treats for all the family to enjoy!
There's nothing better than a cool, creamy ice pop on a warm afternoon and knowing that it's guilt free is even better. These delicious, fruity yogurt pops can serve as an afternoon snack or a refreshing desert. We recommend having a batch in your freezer at all times over the next few months.We love how the flavour from the fresh fruit combines with the tangy taste of the yogurt in these ice pops. It's a perfect balance. The yogurt also makes them taste creamy and rich, almost like an ice cream instead of an ice pop. Don't limit yourself to just the fruit we are using in this particular recipe either, try making them with whatever looks ripe and juicy at the super market. We recommend using peaches, mangoes and even bananas, these would all make great substitutes.
Why not let the kids help to make these easy, healthy ice pops which are exactly what we need to stay on track this summer.
Ingredients
Sugar and Fat Free Yogurt (We opted for a vanilla flavour)
Fruit, sliced thinly (We used kiwi, strawberries and blueberries)
Directions
Add a little yogurt to mould, slide fruit slices down the sides if you want them to show and look pretty.  Add more yogurt and then more fruit until the mould is full.
Note: You can also chop your fruit small and combine it with the yogurt- then pour into moulds and freeze.  (This works better with the small, narrow moulds)
Unmould and serve. Don't forget the sticks!!