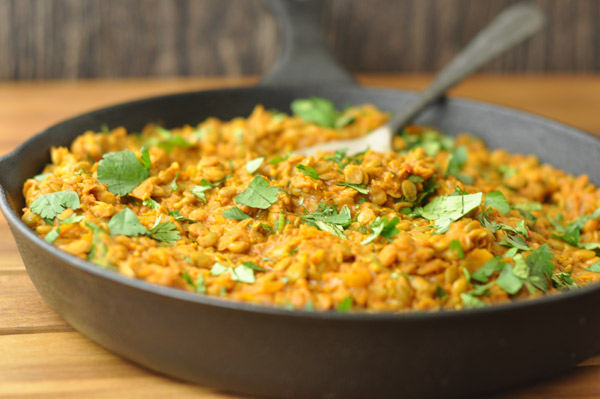 Meal Info
Serves: 4
Time: 1 hour
Food Plan Info
Protein: 1
Free Veg: 1
Restricted Veg: 1/4
Fat: 1/2
This rich and hearty lentil curry is one of my all-time favourites! If you don't like lentils, you will now, just try them cooked like this in a curry and I will be very surprised if it's not a dish you turn to time and time again. Lentil curry is served great as a main meal rather than as a side dish like the more traditional Indian dhal. Don't let the longer than usual list of ingredients faze you, this really is such an easy dish to make and if you lust after Indian cuisine as much as I do and have been looking for a healthy alternative you need to try lentil curry!
Now to share some nutritional significance of this particular lentil curry with you. This recipe is high in protein, low in fat and the lentils are also a good source of fibre, folate, iron, potassium, and phosphorus. As a source of protein, lentils make an inexpensive, convenient and healthy alternative to other animal sources of protein. With the added bonus of being suitable for vegetarians, this lentil curry is sure to be a crowd pleaser!
Ingredients
1 red onion, finely diced
3 cloves of garlic, crushed
1 chilli, diced
3 tbsp of ginger, freshly grated
2 large tomatoes, diced
400g spinach
280g red lentils
1 tsp turmeric
1 1/2 tsp coriander
1 1/2 tsp cumin
1 tsp graham masala
1 tbsp extra virgin olive oil
Juice of half a lime
Salt and pepper to season
Directions
It couldn't be more simple to put this curry together!
In a pan soften the onion in a little water. Add the chilli, ginger, garlic and a little water. When the onion has softened add the tomatoes stir and cover. Reduce the heat for 20 minutes.
Add the remaining ingredients. Add 1 litre of boiling water to the mixture and bring to the boil, reduce the heat and simmer for half an hour before serving!