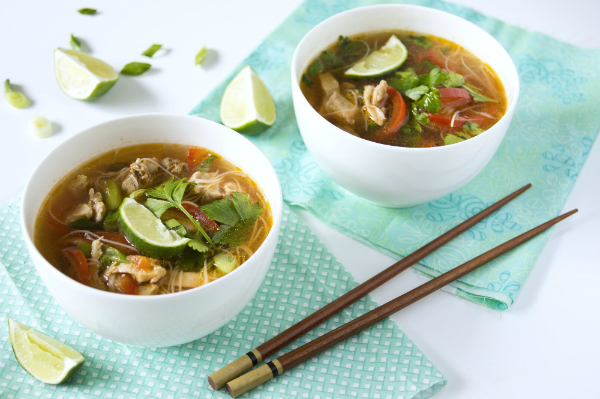 Meal Info
Serves: 4
Time: 30 mins
Food Plan Info
Protein: 2
Free Veg: 1
Fat: 1/2
Carbohydrate: 1
Chicken Teriyaki Soba
Chicken is a great source of lean protein with a low fat content once you remove the skin. This recipe is a twist on the chicken noodle soup we are all familiar with. The wholegrain soba noodles have a lower GI than traditional egg noodles meaning you'll get a slower release of energy after eating. The perfect lunch or dinner you can freeze this soup to have on hand when you're stuck for time.
Protein 2
Carbs 1
Free Veg 1
Fat 1/2
Ready in 30min and serves 4
Ingredients
240g chicken breast
1/4 cup plus 1 1/2 tbsp low-sodium teriyaki sauce, divided
3 cups chicken broth
2 cups water
2 tsp grated peeled ginger
2 garlic cloves,minced
200g shiitake mushrooms, stems removed and caps thinly sliced
1 red pepper, thinly sliced
4 scallions, thinly sliced
200g uncooked wholegrain soba noodles
2 teaspoons sesame oil
1/4 cup chopped fresh basil
1/4 cup chopped
fresh cilantro
4 radishes, sliced
1. In a bowl marinate the chicken breasts in 1/4 cup teriyaki sauce for 20 minutes.
2. Preheat your grill and cook the chicken for about 15 minutes, turning once. Make sure the chicken has cooked thoroughly before removing and leaving to stand.
3. Combine the stock, water, ginger, garlic, and remaining 1 1/2 tablespoon teriyaki sauce in a saucepan and bring to a boil. Add mushrooms, peppers, and scallions; simmer for 10 minutes.
4. Boil the soba noodles as per instructions until just tender. Drain them and divide among serving bowls. Stir sesame oil, basil, and cilantro into your stock mix; divide among bowls. Slice the chicken, and add to bowls along with radishes. Garnish with fresh chilli and lime wedges as desired.