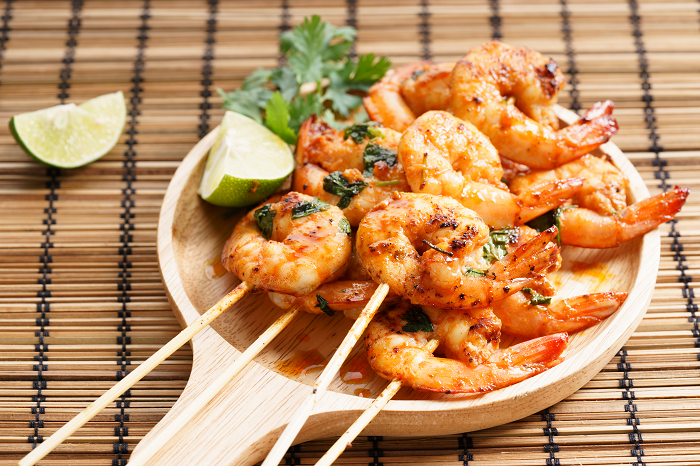 Meal Info
Serves: 4
Time: 30 mins
Food Plan Info
Protein: 2
Free Veg: 1
Fat: 1
Carbohydrate: 1
This chilli garlic prawns with pak choi and quinoa recipe will be an instant hit! The best tip here is to prepare the purée and mix with the prawns in advance. Then it's just a case of cooking the seasoned prawns on a griddle and stir frying the pak choi. Delicious!
Serves 4
Time 30min
Protein 2
Carb 1
Free Veg 1
Fat 1
Ingredients
* 4 garlic cloves, crushed
* Juice of 2 limes
* 1 green chilli, deseeded
* Large pinch dried chilli flakes
* 2 tbsp virgin rapeseed oil
* 360g large, raw prawns, in or out of shell (your preference)
* Sea salt
* 200g cooked quinoa to serve
For the pak choi:
1 tsp fresh grated ginger
400g pak choi, stems separated, and both stems and leaves
roughly chopped
1 tbsp light soy sauce
Directions
1. Put the garlic in a blender and add the lime, chillies, chilli flakes, a pinch of salt and the oil. Blend into a purée.
2.  In a bowl, cover the prawns with the purée. If you can leave them for a couple of hours in the fridge to marinate do, otherwise leave to marinate for 20 minutes at room temperature.
3. Heat a griddle or frying pan over a medium-high heat. Cook the prawns until pink, this shouldn't take longer than 3 mins, if you overcook them they will go rubbery.
4. Meanwhile, spray a hot wok or frying pan with fry light spray and add the pak choi stems. Stir-fry or steam-fry (by adding a dash of water and then covering) for 1 minute, then add the leaves, soy sauce, and ginger and cook for 3 minutes.
5. Remove from the heat, serve with the prawns and quinoa.
6. This chilli garlic prawns with pak choi and quinoa recipe can also be enjoyed cold with a salad for a lovely lunch idea!