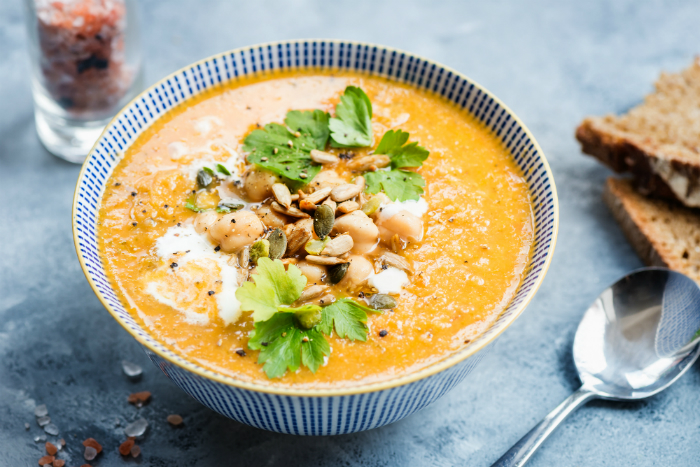 Meal Info
Serves: 4
Time: 30 mins
Food Plan Info
Protein: 1/2
Free Veg: 1/2
Restricted Veg: 1/2
Fat: 1
Cauliflower is a cruciferous vegetable that is naturally high in fiber and B-vitamins. It provides antioxidants and phytonutrients that can protect against cancer. It also contains fiber to enhance weight loss and digestion, choline that is essential for learning and memory, and many other important nutrients.
As mentioned above, Cauliflower is a cruciferous vegetable, as is broccoli, Brussels sprouts, kale, cabbage, and bok choy. They are all members of the cabbage family of vegetables.  Most importantly, they all contain phytochemicals, vitamins and minerals, and fiber that are important to your health (although some have more than others.)
This Curried Cauliflower Soup is delicious and is so easy to make, plus it will keep in the fridge for several days. It can also be frozen.
Curried Cauliflower Soup Ingredients
200g chopped onion
400g chopped cauliflower florets
200g chopped courgette
1 tsp medium curry powder
1 lt vegetable or chicken stock
120g chickpeas
2 tbsp mixed seeds
Curried Cauliflower Soup Directions
1. Using Fry light spray start to sauté the onions and curry powder, cover and reduce to a low heat to cook for about 4 minutes
2. Add in the chicken stock with the cauliflower and season with salt and pepper. Bring the soup to a simmer.
3. Add in the courgette and stir well, cover on a low heat for about 15 mins.
4. Using a hand help blender or in a food processor blitz the soup to your desired texture, if it's too thick add some water, a small amount at a time.
5.  Ladle the curried cauliflower soup into bowls and garnish with chickpeas and mixed seeds, add a splash of milk if desired.