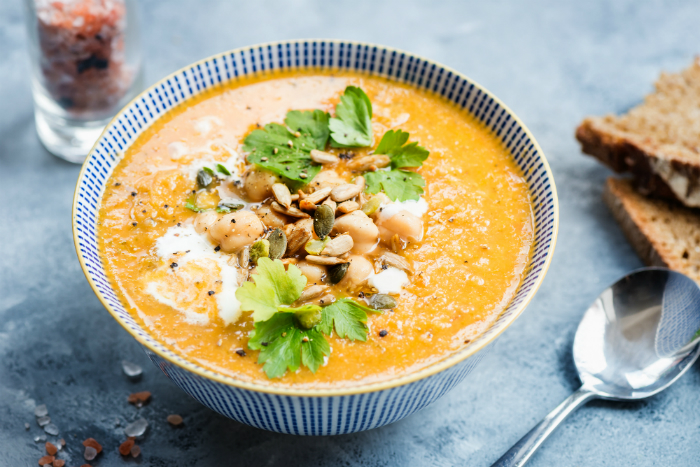 Meal Info
Serves: 4
Time: 30 mins
Food Plan Info
Protein: 1/2
Free Veg: 1/2
Restricted Veg: 1/2
Fat: 1
Serves 4
Time 30min
Protein ½
Free Veg 1 ½
Restricted Veg ½
Fat 1
Ingredients
– 200g chopped onion
– 400g chopped cauliflower florets
– 200g chopped courgette
– 1 tsp medium curry powder
– 1 lt chicken stock
– 120g chickpeas
– 2 tbsp mixed seeds
Directions
1. Using Fry light spray start to sauté the onions and curry powder, cover and reduce to a low heat to cook for about 4 minutes
2. Add in the chicken stock with the cauliflower and season with salt and pepper. Bring the soup to a simmer.
3. Add in the courgette and stir well, cover on a low heat for about 15 mins.
4. Using a hand help blender or in a food processor blitz the soup to your desired texture, if it's too thick add some water, a small amount at a time.
5.  Ladle the curried cauliflower soup into bowls and garnish with chickpeas and mixed seeds, add a splash of milk if desired.