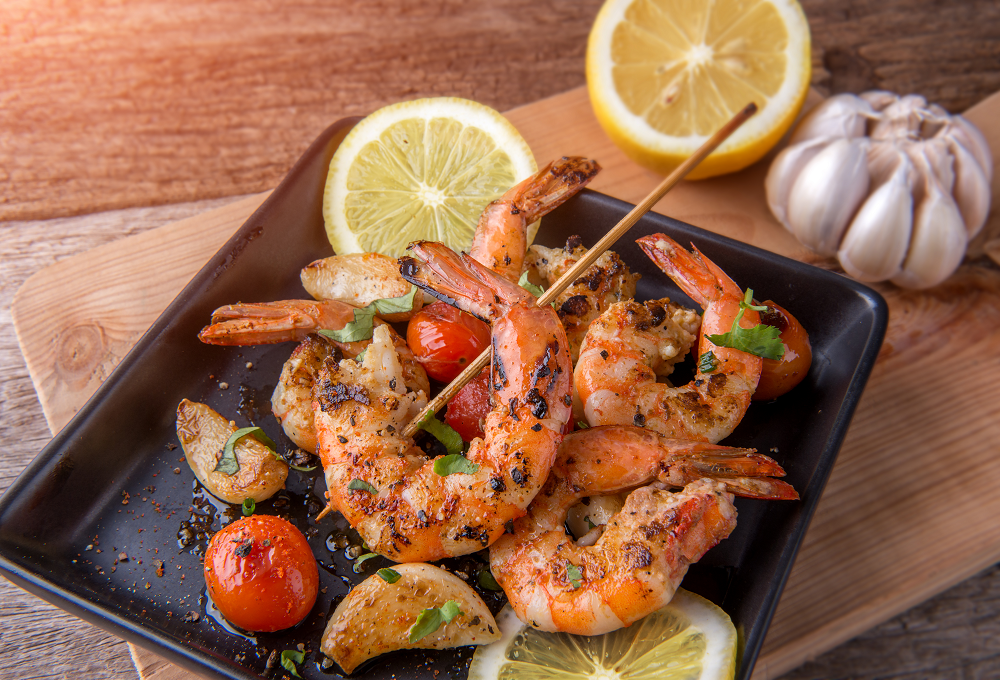 Prawns are an excellent source of high-quality protein and several important vitamins and minerals that support your good health. Prawns are low in calories and contain no carbohydrates.
As with all BBQ recipes, if using bamboo skewers, soak then in cold water for at least 30 minutes before threading prawns to prevent burning while cooking.
This Lemon and Basil BBQ Prawn Kebabs recipe is best prepared a few hours before the BBQ; then just fire up the BBQ and serve with a nice side salad.
Ingredients
400g raw king prawns
3 cloves of garlic, minced
2 tbsp. fresh basil, chopped
2 tbsp. fresh parsley, chopped
1 tbsp. of Dijon mustard
2 lemons, juiced
2 tbsp. olive oil
½ tsp. sea salt
1 tsp. black pepper
200g mixed vegetables, cubed (peppers, courgettes, cherry tomatoes work well)
Directions
1. In a bowl, combine all of the ingredients and toss well. Cover with cling film and place in the fridge for a minimum of one hour.
2. Pre-soak your skewers if using wooden ones for half an hour.
3. Skewer the prawns and vegetables and grill on the barbeque for 1 and a half minutes on each side until the prawns have gone pink. Serve and enjoy!