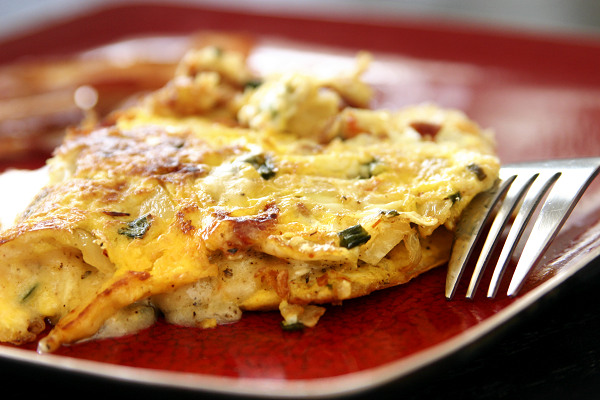 Meal Info
Serves: 4
Time: 15 mins
Food Plan Info
Protein: 2 ½
Free Veg: 1
Carbohydrate: ¼
This is a deliciously tasty protein omelettes recipe. The turkey sausages are an ideal replacement for the ordinary pork sausage and when combined with the other ingredients, it makes for a great tasting meal.
Ingredients
Eggs 8
2 Turkey Sausages
2 tomatoes
120g potato, precooked and left to go cold, cut into small chunks
3 scallions
100g sliced button mushrooms
dash of milk
Directions
1. Start by chopping your turkey sausages into small bite size pieces, next spray a pan with low cal spray and cook them off.
2. As they are nearly cooked add the chopped tomato, potato, scallion, and mushrooms.
3. Stir continually on a low heat to soften and heat the veg.
4. In a separate bowl, whisk the eggs and a dash of milk, season with some black pepper.
5. Remove all of the fillings from the pan and wipe it clean, return to the heat and spray again with low cal spray. This recipe is for 4 people but it cooks better in two omelettes cooked separately.
6. Put half of the filling back into the pan and add in half of the beaten egg. Using a spatula continually move the egg from the bottom of the pan as it starts to cook. When most of the egg has started to solidify leave to finish cooking on a low heat. When the base of the omelette had cooked fold the omelet in half and leave to cook for another minute.
7. Remove from the heat and cut in half, one half per person. Now cook the second omelette on the pan using the remaining filling and egg mix.