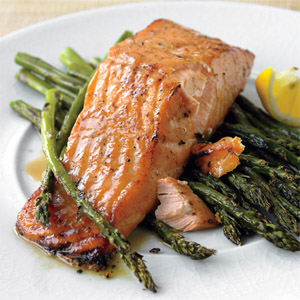 This is a great healthy fish recipe which can be made for tasty mid-week date night meal or with family and friends! You can be sure salmon will always rise to the occasion. Today, we're sharing with you an easy and tasty way to enjoy a low carb, super healthy fish recipe!
One of the main reasons fish consumption is increasing in Ireland is the desire of our nation to turn to healthier foods to live a healthier lifestyle. Of all the varieties of fish available out there, salmon receives the most praise for being nutritionally outstanding. It is an excellent source of high-quality protein, minerals and vitamins (including potassium, selenium and vitamin B12) but it is the content of omega-3 fatty acids in salmon that receives the most attention. A short note on omega-3 fatty acids:
The most beneficial omega-3 fats occur naturally in oily fish. Your body cannot produce these essential fats so it is important you consume these naturally throughout your diet to maintain good health. Omegas 3's help contribute to healthy brain function heart, joints and general well being. In addition to maintain a healthy heart, scientists now believe that fish consumption may lower the risk of many cancers as well as certain chronic diseases including Alzheimer's, asthma, depression, diabetes and high blood pressure.
Ingredients:
– Pumpkin seeds (tsp olive oil, chilli powder and salt to roast)
– 1 salmon darn
– Spinach and / or rocket
– 6 cherry tomatoes
– 4 asparagus tips
– Balsamic vinegar
Directions:
1. Wash seeds in water to remove pumpkin residue.
2. Boil pumpkin seeds for 10 minutes in salted water. Drain seeds and pat dry.
3. Place seeds in bowl, add olive oil, chilli powder and salt and stir until all seeds are coated.
4. Spread seeds on baking tray and bake for 10 minutes, flip seeds over and bake for another 10 minutes until crisp. (160C fan oven).
5. Chop and boil asparagus for 5 minutes.
6. Season salmon with a little salt and black pepper and bake for 10 – 15 minutes in tin foil until it is cooked through. When the fish flakes off from fillet easily it's cooked.
7. Serve on top of cooked asparagus with a bed of spinach, chopped cherry tomatoes and pumpkin seeds (1 dessert spoon)
8. Drizzle balsamic vinegar over salmon if desired.