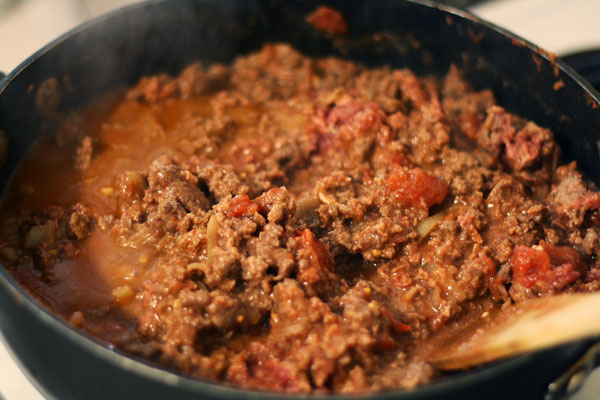 It's important to have a varied diet so as to enjoy food and benefit from different nutrients provided. This savoury mince supper recipe is a great red meat dish which can be enjoyed as part of a healthy diet.  Although red meat can be thought of as an unhealthy food, it still has its benefits. The key is to choose a low fat option which provides many vitamins and minerals but less of the saturated fat known to increase the risk of heart disease. Beef is extremely nutrient dense, supplying high concentrations of protein, zinc, phosphorus, iron and B complex vitamins. When shopping for beef look for lean cuts like loin or round and ideally 90% lean or extra lean. This is a tasty take on traditional plain mince, the additional vegetables making it a meal in itself.
Savoury mince recipe
Ingredients:
450 grams / 1 lb lean ground beef
2 large tomatoes
1 onion chopped
2 red or yellow bell peppers chopped
1 courgette sliced
300 grams sliced mushrooms
1 tablespoon dried parsley flakes
1 teaspoon salt
¼ teaspoon black pepper
½ teaspoon sugar (optional)
Method:
Place tomatoes on baking sheet under grill and place under grill for 5 -10 minutes turning halfway through.
Meanwhile, in a pan or wok over high heat add mince and chopped onion
Chop and stir until beef is browned and onion is soft, approximately 10 minutes
Remove tomatoes from grill and and leave to cool for a couple of minutes
Once cooled, peel skin off tomatoes and cut them into wedges. Add to mince and keep stirring over medium/high heat
Add salt, parsley, black pepper and sugar (if using)
Cook for another 10 minutes, then add courgette, mushrooms and peppers
Stir and cook for a further 10 minutes
Serve in a bowl alone or with wholegrain rice