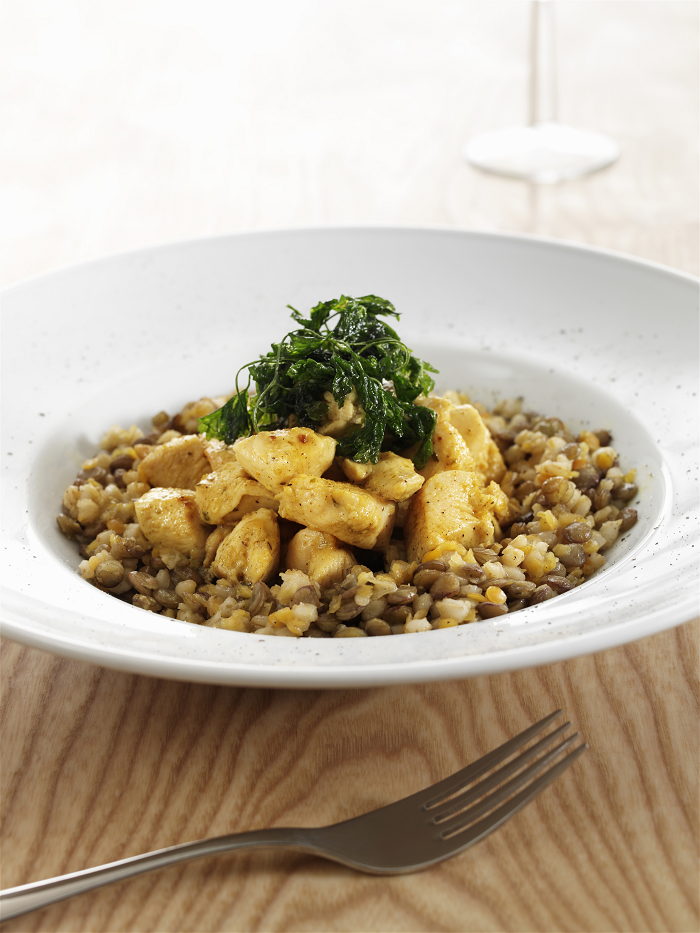 Most of us at some point in time have struggled with sleep. Stress and anxiety can upset our sleep patterns leaving us feeling groggy and irritable, both things we want to avoid. What you eat in the hours before bed can also affect how many z's you catch.
Tryptophan is an essential amino acid, used by the body to produce the B vitamin Niacin and is also important for general growth and development playing a special role in digestion. With regard to sleep, Tryptophan is responsible for creating serotonin which in turn is used to make the hormone melatonin. Serotonin is thought to produce healthy sleep and a stable mood while melatonin helps to control your sleep and wake cycles.
Foods rich in tryptophan include nuts, seeds, tofu, cheese, red meat, chicken, turkey, fish, oats, beans, lentils, and eggs.
Curried Lentils with Chicken or Turkey
Time: 15min
Serves: 4
Fat 1
Protein 2
Restricted veg 1/4
Ingredients
* 280g cooked puy lentils
* 300ml water
* 1 large onion, finely chopped
* 1 red chilli, de-seeded and finely diced
240g turkey breast, diced or 200g Chicken
* ground coriander
* 1tsp garam masala
* 1tsp ground cumin
* 1tsp chilli powder
* ½tsp turmeric
* juice of 1 lemon
* 1 lemon, cut into wedges
* a few parsley leaves
* 1tbsp zero fat natural yoghurt
* 1/2 tsp salt
* 1/2 tsp pepper
Directions
1. Heat a large saucepan set over a medium heat and spray with 1cal FryLight. Sweat the onion for 4-5 mins until softened then add the ground spices, chilli and seasoning.
2. Add the turkey or chicken breast (whichever you prefer) and cook for 5-6 mins, stirring until cooked through.
3. Meanwhile, heat 300ml (1/2 pint) water in a large saucepan until simmering then add the precooked lentils. Simmer for 2-3 mins until heated through then drain.
4. Add the lentils to the turkey or chicken and stir well.
5. Season with lemon juice, salt and pepper. Serve and garnish with the lemon wedges, parsley leaves and extra chilli before serving.
6. Top with a drizzle of zero fat natural yoghurt.