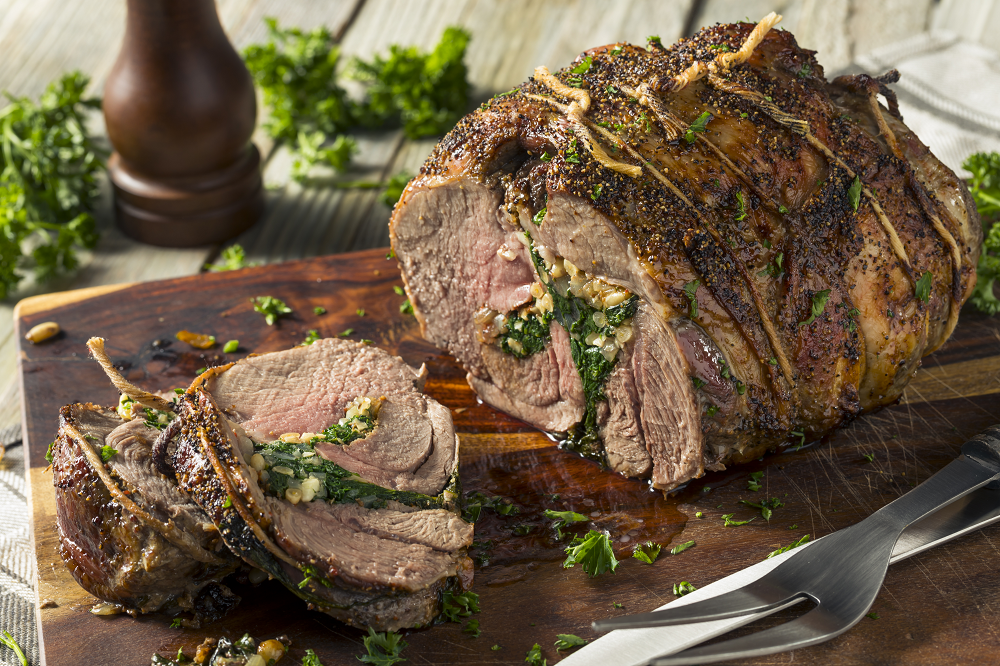 Meal Info
Serves: 4
Time: 2 hours
Food Plan Info
Protein: 4
Free Veg: 1/2
Restricted Veg: 1/4
Fat: 1
Okay, this stuffed roast saddle of lamb is probably one of the more challenging recipes that we've posted in quite some time. But stuffed roast saddle of lamb is well worth the effort, it always delivers on taste and is a recognised crowd pleaser. When you read the recipe below you'll see that your local butcher actually does all the really hard work – your role is to prepare the stuffing and ensure the saddle of lamb is well tied before placing into the oven.
Ingredients
1 small onion, peeled and chopped
2 garlic cloves, peeled and sliced
4 tsp pine nuts
250g spinach washed
120g low fat feta cheese, crumbled
Boned saddle of lamb, about 1kg (ask your butcher to bone it for you)
1-2 tsp sumac, to taste
Sea salt and freshly ground black pepper
Directions
Sauté the onion and garlic in a medium-hot pan using fry light spray for 5 minutes until they begin to soften.
Next, add the pine nuts to the pan and fry for about 1 minute until golden. Continually move them around in the pan so they do not burn.
Add the spinach and toss until it begins to wilt then remove the whole pan from the heat and stir in the feta.
Lay the saddle of lamb open on a board, flesh side up and season with salt and pepper, sprinkle over the sumac. Spoon the spinach mixture along the middle of the meat, using the fillets that run down the inside length of the meat to support the sides of the stuffing.
Roll the meat around the filling and tie at intervals with string. Season the outside of the lamb all over, then chill for at least 30 minutes or overnight to help firm it up and make it easier to brown.
Preheat the oven to 190°C/Gas 5.
Put a roasting tray on the hob and spray with fry light, fry the joint for 10 minutes until brown all over. Transfer to the preheated oven and cook for 45-55 minutes, depending on the weight of the lamb and how pink you like it. When the stuffed roast saddle of lamb is cooked, set aside to rest.
This stuffed roast saddle of lamb dish can be served as part of a dinner or as a mid-week meal with some salad, we suggest enjoying yours with fresh mint sauce!
Click here to download a copy of the stuffed roast saddle of lamb recipe.