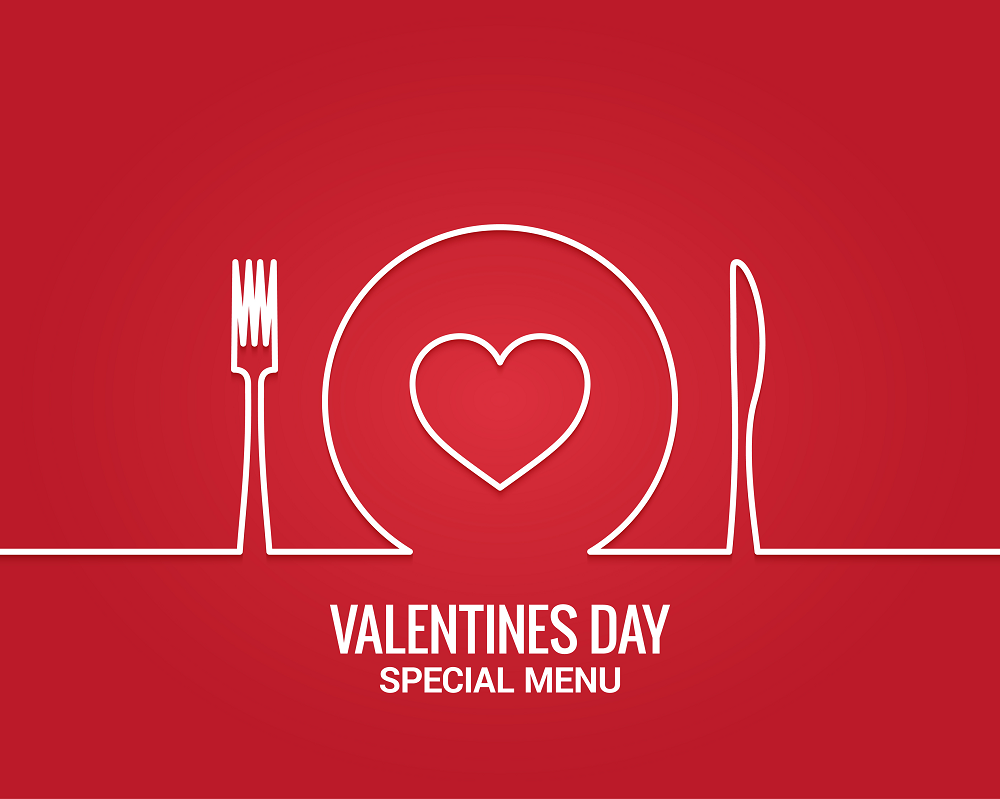 Super Speedy Romantic Valentine 3 Course Meal
This year Valentine's Day falls on a week night meaning many of us may not want to go out to dinner or may be pushed for time when we get home from work. This speedy 3 course meal is not only low in calories, sugar and fat but could not be easier to make meaning even the most inexperienced cook can have a go. Why not surprise your partner, family or even house mates this Valentine's Day with this tasty trio all doable in under 30 minutes. They say the way to someone's heart is though their stomach so you may notice there's a colour theme to this meal, subtle but romantic!
Download your own copy of the recipes here.
STARTER
Zinging Beetroot and Feta Salad
Serves 2
Time 10 min
Protein 1 1/2
Restricted veg 1/2
Free veg 1
Fat 1
Ingredients
* 100g baby spinach leaves
* 2 small radishes, sliced finely
* 100g cooked beetroot, from a jar is fine
* 100g low fat feta cheese, crumbled
* 2 tbsp mint leaves, roughly chopped
* 2 tbsp spring onions, finely sliced
* 1/2 long red chilli, halved, deseeded and finely sliced
For the dressing
* 1 tbsp rapeseed oil
* 1 tsp honey
* 1 tbsp lemon juice
* 1/2 tbsp Dijon mustard
Directions
1. In a large bowl simply layer the salads ingredients starting with the leafy vegetables, then the beetroot.
2. Next crumble the feta over the salad and sprinkle with the torn mint leaves and sliced chilli.
3. In a small jar mix together the ingredients for the dressing, pour evenly over the salad and serve.
4. This salad also works well with nuts, particularly walnuts so finish with a sprinkle of your choice should you wish.
MAIN
Coconut Free Prawn Curry
This low-calorie prawn curry is super-fast to make and only has 5 ingredients, free from coconut milk which keeps the calorie content low too. Prawns are a great source of lean protein and can be relatively inexpensive when bought frozen. Feel free to add in some extra vegetables to this curry if you'd like to bulk it up, peppers and root vegetables work well.
Serves 2
Time 15 min
Protein 1
Fat 1/2
Restricted Veg 1/2
Free Veg 1
Ingredients
* 1 tbsp medium curry paste e.g. Pattaks
* 100g onion, finely sliced
* 100g raw or cooked king prawns, defrosted if frozen
* 200g chopped tomatoes, choose a tin infused with garlic
* 1 large bunch or coriander
Direction
1. Fry off the onion in a large pan using 1 cal spray.
2. Once the onion has softened, add in 2 tbsp of the curry paste and continue to stir.
3. Stir in the prawns, and tin of tomatoes and bring to a simmer.
4. Chop the leaves and stalks of the coriander and add just before serving.
Serve this with some basmati rice and some toasted whole grain wraps for dipping should you wish.
DESERT
Chocolate Fondue
This desert can be fun and interactive and ready in under 5 minutes. Strawberries work the best but feel free to experiment with other fruit too, mango, banana and orange slices also work well.
Serves 2
Time 5 minutes
Fat 1/2
Fruit 2/3
Carb 1 1/2
Ingredients
*  200g strawberries
* 50g 70% dark chocolate, to add a flavour twist choose a flavoured bar like Green and Blacks Mint or Ginger Dark Chocolate Bar.
* 1 tbsp chopped nuts
Directions
1. Simply break the bar into squares and place in a bowl.
2. Microwave on a medium heat, stopping and stirring the chocolate every 30 seconds to ensure it melts evenly.
3. Using toothpicks or metal skewers if you have them, spear some fruit and dip into the hot chocolate and then into the nuts.
4. You can also make these prior and simply serve the chocolate dipped fruit with tea or coffee after your main course, just keep them in the fridge until you're ready to eat!