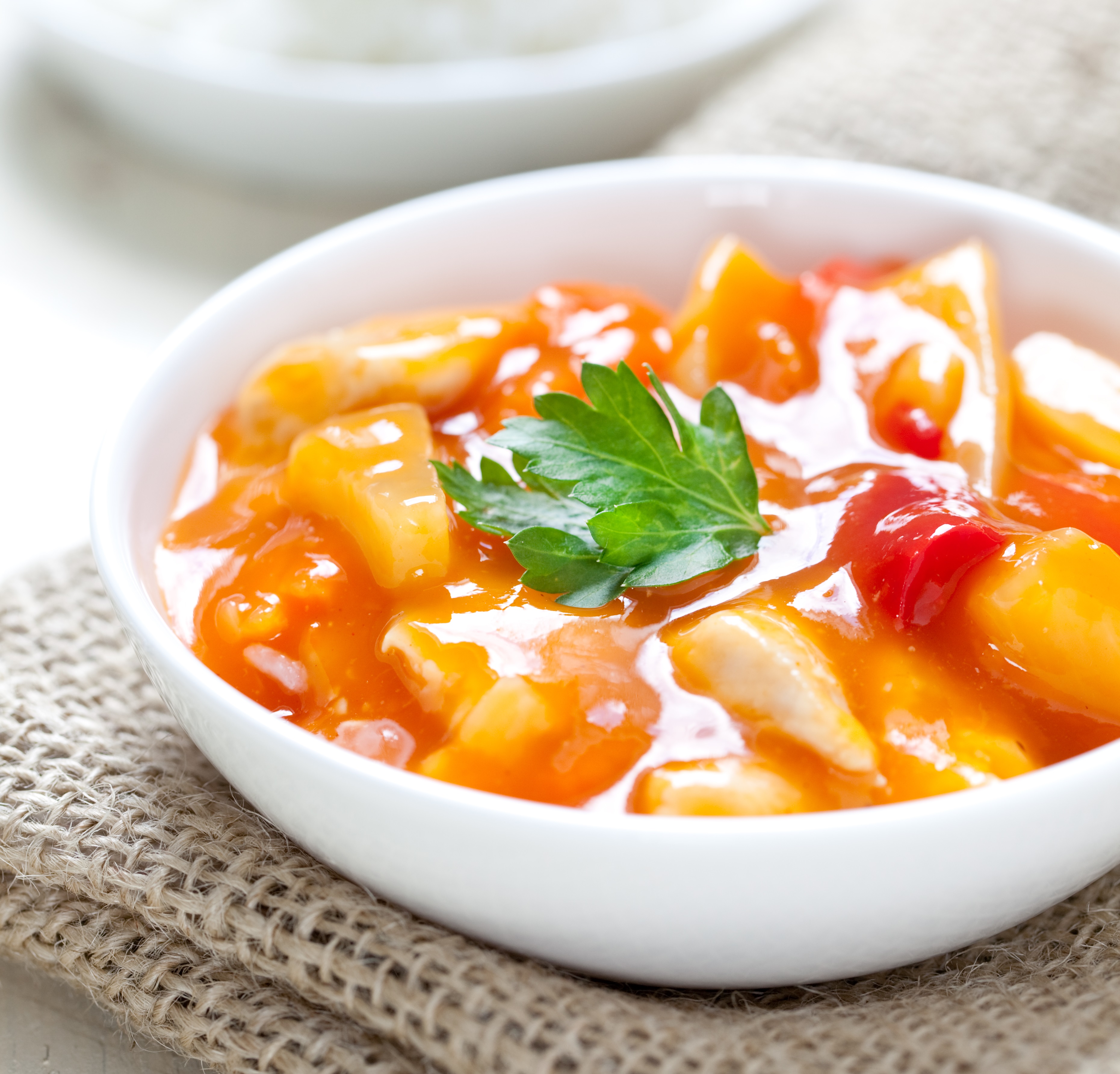 Meal Info
Serves: 4
Time: 20 mins
Food Plan Info
Protein: 1
Restricted Veg: 2/3
Fat: 1/2
Fruit: 1/2
A favourite for many, traditional sweet and sour chicken is usually laden with sugar. You can however easily substitute the syrups and juice in sauces, and maximise the flavour by using tangy rice vinegar, rich tomato paste and plenty of spices.
The pineapple chunks in this vegan low sugar sweet and sour tofu recipe provide texture and natural sweetness but if you need a little extra you can add a xylitol or pinch of stevia into the recipe.
Do taste it first as I find it is sweet enough with just the fruit. Substituting tofu or quorn for chicken in this recipe is a great way to go meat free which we should all be aiming to do one to two days per week.
You can also store this sauce in the fridge for 2-3 days or in the freezer for up to 3 months.
Ingredients
Tofu 280g
1tsp olive oil or coconut oil
1 small red onion, finely diced
2 crushed garlic cloves
½ tsp fresh ginger root, grated
½ red chilli, deseeded and finely diced or pinch of chilli flakes, optional
¼ tsp Chinese five spice powder
2 tbsp tomato puree
150ml fresh vegetable stock
1 tsp cornflour
1 tbsp rice vinegar or apple cider vinegar
1 tbsp xylitol or pinch of stevia (to taste)
1 tbsp tamari soy sauce, gluten free
200g fresh pineapple cut into small pieces
Freshly ground black pepper
Pinch of sea salt
Directions
1. Heat the oil in a pan and saute the onion for a couple of minutes until it starts to soften. Add the garlic, ginger and chilli if using.
2. Stir for a minute before adding in the tofu.
3. In a small bowl mix together the cornflour and 3tbsp of the vegetable stock to make a smooth paste.
4. Add the remaining vegetable stock, vinegar, xylitol or stevia, tamari and tomato puree to the pan and bring to the boil. Turn down the heat, add the pineapple chunks and cornflour paste and simmer for a couple of minutes to thicken the sauce. Season to taste with salt and pepper.
Note: This vegan low sugar sweet and sour tofu can be stored in the freezer for up to three months.