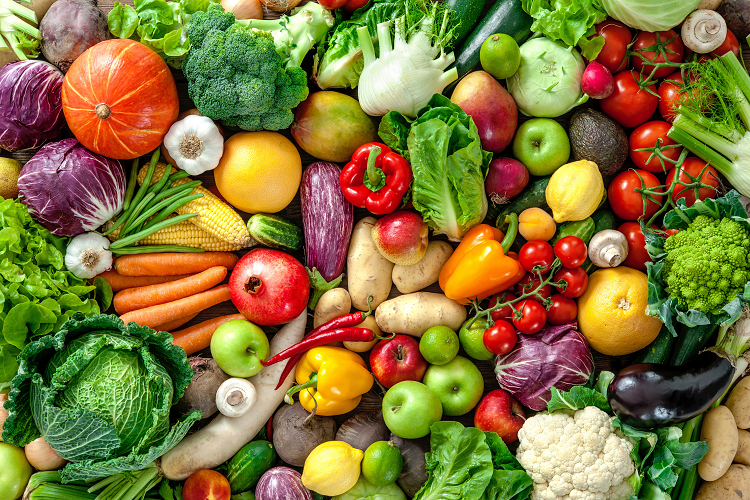 Sustainability and healthier eating are topics that are closely linked. No doubt, many of you will have discussed sustainability and healthier eating with your family and friends. Well, here too at Motivation we have been talking more and more about reducing our carbon footprint, trying to be more sustainable and how we should combine those with healthier eating.
Healthier eating is an intrinsic component of our weight loss programme and all our clients are provided with personalised guidelines for their own individually tailored weight loss programmes.
Let's look at ways in which we can (collectively) be more sustainable and eat a healthier diet.
Obviously growing and using our own food resources is an ideal setup but with busy lifestyles and also for many, no real suitable space, it may not always be possible.
However, eating foods that are locally produced and in season is a great way to reduce the overall environmental impact of what we eat.
Why is it so good to buy foods that are local and in season?
Energy. Energy and resources are needed to grow, package and transport food across a global food system. Keeping it local and in season will help reduce the amount of energy used and reduce your environmental impact.
Food quality. Fruit and vegetables transported around the world are often picked before they are fully ripe and lose nutrients by the time we buy them. Local sourcing helps keep this to a minimum.
Money. Money spent on local food goes back into the local economy which can only be a good thing. Support Irish businesses now more than ever!
Waste. Food produced locally shortens the supply chain and limits the likelihood of spoilage during transport. Therefore, less food is wasted overall. Wasted food wherever it comes from is a waste of resources.
In Ireland, the mild wet climate means we have a long growing season for many vegetables. Sturdy vegetables like cabbage, cauliflower and beetroot are in season all year round.
Currently in autumn and just in time for Halloween, bright orange and deep golden squashes are coming onto the market. Pumpkin and squash flesh is great for smooth flavoursome soups, spicy curries and autumnal casseroles.
More of the root or restricted vegetables like carrots, parsnips and swede are also currently in season. You can use your restricted vegetable serving by grating raw carrots to add colour, crunch and sweet flavours to winter salads or coleslaw. Grate raw carrots and seasonal Irish apples and mix with finely sliced scallions. Add a simple lemon vinaigrette and toss in a tablespoon of lightly toasted seeds for a crunch. A healthy alternative to coleslaw.
For autumn greens, there is still some spinach around though not as tender as the baby leaves of summer. Broccoli, kale and celery are in season too and the main crops of potatoes are arriving now so try to pick up some lovely local Kerr's Pinks.
For protein, lamb is good this time of year with a sweeter more developed flavour.
Autumn is also a good time for fish, colder waters give firmer flesh and more intense flavours to locally caught hake, haddock, halibut, plaice, sole and monkfish.
With all of this in mind take a look at the seasonal food calendar from the EPA and a look at our recipes that are currently season friendly!
Autumnal / Winter Recipes
All these recipes are available in our cookbook 'Deliciously Healthy' which can be bought in your local clinic or on our online store.
Broccoli and Courgette soup (pg 58)
Carrot and Lentil soup (pg 60)
Red pepper and beetroot soup (pg 72)
Fired up fishcakes (pg 90)
Paprika Hake and seasonal veg (pg 100)
Shepherd's pie (using lamb mince) (pg 104)
Roasted garlic lemon Broccoli (pg 122)
Roasted garlic cauliflower (pg 124)
Healthy vegetable slaw (pg 130)
Cauliflower hash brown (pg 134)
Apple compote (pg 144)
Carrot cupcakes (pg 150)
Recipes on the Motivation Website
Sustainability and healthier eating are important and I hope you've spotted a few recipes that you like and that you'll try as soon as possible.  The seasonal food calendar is a great guide.
I'd recommend you prepare your shopping list with the those vegetables that are in season and this then will help you to choose the most appropriate recipes. Of course, everyone has their favourite vegetables and foods so this in itself will strongly influence the selection of recipes from the lists above.
For any Motivation client reading this, your Food Booklet is an indispensable tool as it provides you with your allocation guidelines. Use it when preparing your weekly shopping list.