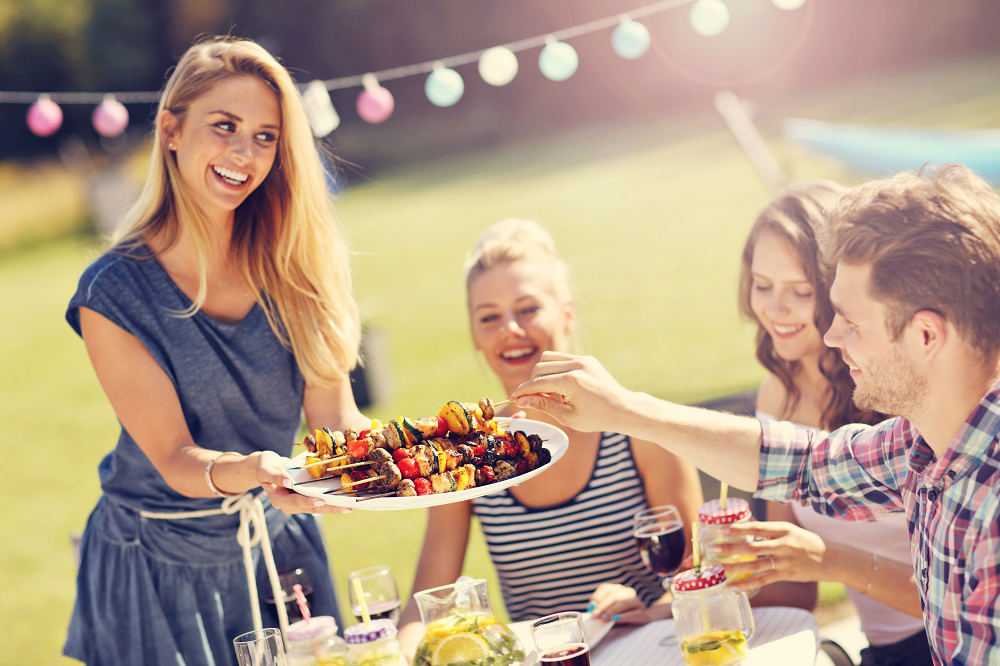 Healthy BBQ Recipes
Are you ready for the summer? Try this range of healthy BBQ recipes, there's everything here that will help you get ready for the sunny weather ahead. Whether it's something you're preparing for a friend's barbecue, or something for the kids for those hot summer days, we've got you covered.
This BBQ marinade is a very tasty Mediterranean creation. This healthy BBQ recipe will go down a treat at any party you host with friends this summer.
Prawns, available fresh or frozen, are a good source of protein. These kebabs work well with mixed vegetables – try peppers, courgettes or cherry tomatoes.
This Chicken Skewer recipe is perfect as a snack or as part of a meal that can serve the whole family. Ideal for enjoying at your upcoming barbecue and soirée.
Scallop Prawn and Vegetable Skewers
This delicious light savoury meal for the brighter weather includes some of your favourites. Scallop prawn and vegetable skewers recipe are perfect for seafood and barbecue fans alike.
Summer Lite Salads
Salad, salad, salad, lots of protein and lots of vegetables this summer, all Summer! There's no reason you cannot enjoy these social events. The weather is ideal to try some of these recipes and delay the soups until the weather changes again!
This Thai Beef Salad is one of the ultimate healthy Summer salads, combining a good steak, salad and delicious Thai flavours. You can serve it on its own as a light meal or on the side with some steamed rice for a more substantial Thai-themed meal
Some people think salads are tasteless and mundane, but we disagree. A really healthy habit that you should try to develop is to eat a salad every day. Salads are only ever boring when you eat the same formula over and over again! Try this salad and experience something new, however little, every day. Soon it will become as natural as choosing not to have a salad every day!
Summer Treats and Drinks
Finding it difficult to drink all that plain ol' water? Here's a tried and tested option that will make sure you do no wrong with your H2O intake, without the feeling of being left out of all the fun! We have come up with some great healthy drink recipes to give a kick to your standard table jug of water! Fill up a few different jugs with a mix of fruit at your next social!
Strawberry and Banana Dairy Free Ice Cream
This very simple, strawberry and banana dairy free ice cream definitely piqued our interest when a client suggested the recipe. If you or your kids or you are making a concerted effort and want to avoid the typical desserts full of sugar and calories but love a sweet treat at the weekend, then we think that this is a winner. We use frozen fruit and a small bit of sugar substitute in this particular dish. It is delicious and takes less than 5 minutes to whip together without the added guilt of opting for a store bought alternative.
You can manage your weight over the summer months, without becoming a complete hermit and avoiding the social events that seem to increase in volume as the weather improves. We hope that some of these healthy BBQ recipes will help to serve you well and enjoy social events with the benefit of not having to keep track of your calorie intake at all times!
Have you any questions about or programmes? Or perhaps you cooked something tasty recently that you're dying to share, let us know by requesting a callback and one of our representatives will come back to you.